Cooking with Vision Loss: Making Holiday Cookies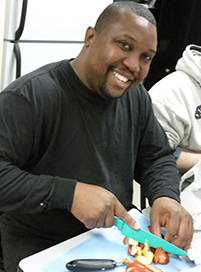 Organization is a key to cooking with vision loss. Here are some easy tips to follow to keep your workspace organized and clean.
Gather all the ingredients you need and place on a tray. As you use each ingredient, remove it from the tray and set aside. You will know which ingredients you have used and what is left.
When measuring ingredients, use a contrasting color to make it easier to see. For example, use a dark measuring cup to measure sugar or flour and use a light measuring spoon to measure vanilla or cocoa.
To eliminate waste and avoid a messy cleanup, dip the measuring cup or spoon into the ingredient container instead of pouring or spooning the ingredient into the measuring cup.
To sprinkle toppings on cookies or cupcakes, pour sugar or other decorations in a shallow dish and dip the cookie into the mound. This eliminates waste, is easy to clean up, and the cookie will be evenly coated.
If you are using an electronic device to store your recipes, place it in a Ziploc plastic bag to avoid getting the device wet or clogging it with ingredient remnants.
Cooking Tips and Recipes for Individuals with Vision Loss
If you are new to vision loss, here are some resources to help you master your kitchen and use safe cooking and baking techniques for your holiday cookies.
Cooking and Meals: Master Your Kitchen
Cooking with Confidence: A Peer Guide to Cooking Safely with Visual Impairment
Accessible Kitchen Aids for Successful Holiday Cooking with Vision Loss