The Gift of Homemade Cooking for the Holidays
We all love to receive homemade treats. There is something special in the way they taste with the added ingredient of thoughtfulness. For special occasions, I like to prepare tangy preserves or mouth-watering cookies and surprise my family and friends with a pretty package they can eat! Here is a family favorite from my kitchen to yours, all the way from Australia!
Tangy Lemon Curd
Ingredients
8 lemons
2 1/2 cups sugar
½ cup butter
6 eggs, beaten
Method
1. Wash lemons and grate rind.
2. Squeeze all the lemons to extract their tangy juice
3. In a saucepan and over a low heat on the stove, melt the butter gently and add the sugar.
4. Stir well (I use a whisk to avoid lumps) and when all nicely melted, add the lemon zest and juice.
5. Add beaten eggs and mix well.
6. Stir over low heat until deliciously smooth and thickened. This will take about 20 minutes.
7. Pour tangy mixture into hot sterilized jars and seal. Store in the fridge.
The lemon curd will thicken upon cooling. It is delicious used on hot buttered toast, crumpets or on pancakes.
I made homemade apple butter in the crockpot starting with applesauce. It is super easy to do and made my house smell wonderful! My family loved it and I am giving it to friends and neighbors.
Audrey's Easy Apple Butter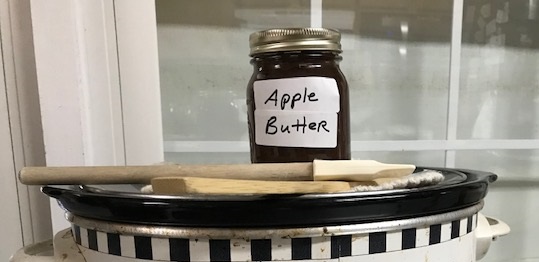 Ingredients
4 46 oz. jars of unsweetened applesauce (Aldi)
2 cups white sugar (try using even less)
2 cups dark brown sugar
2 tsp. ground nutmeg
½ tsp. allspice
1 ½ tsp. cloves
2 Tbsp. cinnamon
Method
Place all ingredients into your crockpot.
Cook on low for 8 hours with the lid on, stirring occasionally.
Cook on low without the lid for 1-4 hours, until the apple butter is dark and thickened to your preference. (I pureed it further with my handheld immersion blender while still in the crockpot for a smoother consistency.)
I filled clean, recycled small jars leaving ½ inch of space at the top. You can label and decorate the jars to give as a gift. If not used immediately, the jars can be stored in the refrigerator for up to one month, but should be frozen to preserve it longer if using unsealed, recycled jars. Alternatively, you can use new mason jars with their lids and process to seal. It is delicious on bread, toast, oatmeal etc. This recipe fills approximately 16 8oz. jars.