Takes Two to Tandem
by Mary Hiland, peer advisor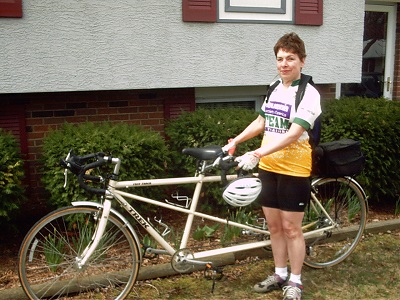 "So, how do you like retirement?" my friends asked me, as we pedaled down the bike path. It's a Thursday morning. The weather is gorgeous. I'm not at my desk. I'm not on the way to work. I'm riding with some of the most wonderful people in the world. I'm on the back of a tandem bike. What's not to like?
Because of my blindness, all my cycling is done on my tandem, which I bought in the early 90's. It was right around that time that I joined a bike club. Many of the club members have captained for my bike at one time or another. The captain is the rider on the front, who does the steering. I'm the person on the back, called the stoker. The captains for my bike also serve as tour guides of a sort, describing the scenery as we pass. Some are better at this than others, but for me, a good describer is a bonus. I just love getting on the bike and taking off. Once, a new captain asked me, "How can you get on the back of the bike with someone you've never ridden with and trust them with your life?" I have to trust, or I would never get to ride.
In my situation, I have to take risks, and I do, constantly. This is not to say that I'm not careful in agreeing to ride with someone. I've turned down offers from people who have never ridden a bike before, or who have never ridden past their neighborhoods. A good ride for me these days is at least 30 miles. Back in the day, when we all were younger, a typical ride would be 50 miles, usually on back roads through small towns, and always with a breakfast or lunch stop. We ride to eat. I rode GOBA, the Great Ohio Bike Adventure, three times, part of TOSRV twice, and El Tour De Tucson, a fund-raiser for leukemia, twice. The Tucson ride was the longest I've ever done, 111 miles in one day.
I am so thankful to have my cycling friends, especially those who are willing to captain for me. Being out in the fresh air, getting a good physical workout, listening to the joyful noises of the birds, smelling the distinct fragrances of the country, and feeling the sun on my face are all part of the joys of cycling. I truly enjoy riding with a group, because it's fun to catch up on what's been happening in their lives while getting some great exercise. Riding a tandem is not just a necessity for me, but also a great way to get to know people. I recommend it for couples. It takes real teamwork, especially for me. Ideally, my captain will warn me if we need to stop, slow down, turn right or left, or bear down for a steep incline. I had one female captain who liked for us both to stand when going up a steep hill. She taught me how to do that and not be worried when the bike swayed from side to side. Most captains prefer for one or the other of us to stand, but not both of us at the same time. It takes timing and courage. It's important to let me know which way we're turning, so I can lean to help the bike through the turn.
Once I scared a new captain to death when I demonstrated how the stoker can actually turn the bike by leaning. I like for my captains to tell me when we're starting an incline, so I know that the reason it's harder to pedal is not just that my captain has quit pedaling. I'd like to have a dollar for every time someone standing in their yard and watching us pass by yells "She's not pedaling!" They always think they're so clever. Believe me, you can tell if your tandem partner isn't pedaling. I have one captain who likes to tell me that we're getting ready to go up a hill, so I'll start working harder, so he can rest. Not really. He likes to tell people that, but he's one of the strongest captains I have. Joining a bike club is one of the best ways to make friends and to stay in shape. I am so thankful for mine.
Editor's note: This article was first posted on Mary's blog in June, 2012. You may also want to read her follow-up post How To Ride a Tandem Without Killing Your Partner.