Driving with Low Vision
Many adults who have low vision want to continue driving an automobile because it represents independence, convenience, and freedom. Perhaps you're one of those adults! Here's something to consider: If you are a driver who has low vision, it is important that you have a strong sense of driver responsibility and a willingness to exercise good judgment by restricting yourself from driving in situations that you know are unsafe. The decision to drive, or continue driving, is a personal one that must be made collaboratively with you, your eye doctor, and your local licensing agency.
About Bioptic Driving
Source: Charles P. Huss, COMS, Coordinator, Low Vision Driver Services, West Virginia Rehabilitation Center; Consultant, Bioptic Driving, West Virginia Division of Rehabilitation Services. Used with permission. During the past 40 years, bioptic lens systems have allowed thousands of Americans whose vision falls below the standard legal visual acuity limits (20/40-20/60) to drive an automobile. At present, most (but not all) U.S. states permit persons with mild to moderate levels of central vision loss (but with intact peripheral, or side, vision) to apply for driving privileges when using a bioptic lens system. Approximately half the states that permit bioptic driving require participation in, and satisfactory completion of, formalized low vision driver education training as a requirement for driver licensure. This training includes a minimum of 20-30 hours of behind-the-wheel instruction for most candidates. (Please note: Bioptic driving regulations and restrictions vary from state to state. BiopticDrivingUSA provides information about state-by-state laws governing bioptic driving and frequently asked questions about bioptic driving rules and regulations.)
What Is a Bioptic Lens System?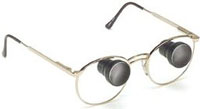 A bioptic lens system is a combination two-lens optical system with a telescope, or telescopes, attached to the lens of a pair of eyeglasses. The telescope is placed on the eyeglass lens just above one's normal line of sight. A bioptic system is always prescribed by an optometrist or ophthalmologist who specializes in low vision. Bioptics are available in a number of different styles, sizes, and powers. The Schepens Eye Research Institute describes bioptics as "small telescopes that are attached above the center of a spectacle lens. A slight downward tilt of the head and upward shift of the eyes can bring a distant road sign or traffic light into view for people with vision impairments."
How Are Bioptics Used When Driving?
Drivers who use bioptic lens systems look through the main eyeglass lenses (also called "carrier" lenses) for general driving purposes 90-95% of the total driving time. To use the bioptic telescope, the driver dips down into the miniature telescopic lens unit(s) briefly and intermittently using a simple synchronized head and eye vertical drop technique to see detail, color, or road activity more clearly, as illustrated below:
| | |
| --- | --- |
| | |
| Figure 1: Looking through the "carrier" lens of a bioptic lens system. | Figure 2: Looking through the "telescopic" portion of a bioptic lens system. |
Some of the critical skills required for bioptic driving include distance viewing skills, object awareness skills, and basic bioptic usage skills. Once trained in its appropriate use, a low vision driver using a bioptic lens system is able to detect and identify detail, color, and movement of critical objects or forms at a more "normal" viewing distance while driving. Be aware that low vision driving, with or without bioptics, remains a controversial issue, especially in the following areas: What a driver with low vision is able to see, the limiting optical aspects of bioptics, the continued and appropriate use of bioptics after licensure, and alternatives to bioptic driving.
Resources for Safe Driving and Driving Alternatives