Coping with Hearing and Vision Loss
As with normal vision changes, the ear's performance is affected by aging, which can severely hinder communication between you and your family. When it occurs in conjunction with vision loss, you may feel increasingly isolated from your loved ones and the rest of the world. Fortunately, there are steps you can take to ensure that you remain fully engaged in the world around you.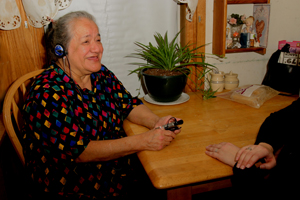 Assistive listening devices are helpful communication tools for people who are losing their hearing.


First Steps for Dealing with Hearing and Vision Loss
Visit a hearing specialist. If you haven't done so already, talking to a specialist is the best way to determine if an assistive listening device is right for you. It's very possible that one of a wide variety of such devices can help restore some or even most of your hearing capacity.

Visit an audiologist. Some severe ear conditions cannot be corrected with a device, but there are alternative communication skills you can learn. An audiologist can help you determine what kind of hearing condition you have and what resources are available.

Find out about resources such as the iCanConnect program that provides free communication technology and training to help people stay connected with family and friends.

Also check out the NLS Deaf-Blindness Resource Guide for individuals who are deaf-blind, parents of deaf-blind children, and educators and other professionals who work with children and adults who are deaf-blind. It is organized into four parts. Part one contains information and resources about topics related to deaf-blindness. Part two suggests keywords to use for an Internet search of deaf-blindness. Part three is a bibliography of topics found in the information resources section, and part four provides contact information for the organizations listed in this guide.

Educate your loved ones. Family members will often be confused and uncomfortable when trying to overcome the communication barriers that hearing loss (and vision loss) can create. They will make mistakes. Take command of the situation by giving them a few simple guidelines. Start by sharing and utilizing these tips to improve communication with individuals experiencing dual sensory loss.