Be Afraid of Falling: Take Precautions Now

All of my life I have heard that falling is one of the major causes of accidental deaths in this country. I am lucky. I recently had a fall and suffered an injury from which I am still recovering. However, I am lucky that the consequences were not much worse. National Fall Prevention Day is always on the first day of fall every year), and I wanted to share my thoughts with you about how to prevent what happened to me.
I have tried to "fall proof" my home's interior by insuring that the pathways and hallways are clear. I always keep my furniture in the same place and dare anyone to move it! I make use of dark and light contrasting colors with my furniture and in my bath to enhance my ability to see what is there. You would be surprised at the difference a light throw on the back of chair or a dark towel in a white bath can make!
I have good, even, interior lighting throughout the house, a light by my bedside that I always turn on when I move around at night, and night lights in strategic places such as the bath. All electrical cords are tucked behind furniture and not in my walking path. I use nonskid floor mats in my bath and nonskid mats under all my area rugs throughout the house. I have installed a rail in the tub to stabilize me when I take a shower or bath. My little dog has a bell on her collar so that I can hear her location and will not trip over her (by the way, a cat collar with a bell works well for small pets). I also keep her toys picked up so that I will not run the risk of tripping over them.
I do have steps in my house. They have a railing that I always use when I go up or down the steps. I count the steps when I ascend or descend so that I know when I reach the bottom. I also put my toe over the edge of the step when I descend so that I know the depth of the step and where I am stepping. Using a contrasting color, embedded metal strip, or contrasting tape on the edge of the step will also improve safety on the steps as will painting your handrail a contrasting color so that you can locate it easily. Painting ramps with contrasting colors also improves their visibility.
If you are in an unfamiliar area, be aware of the type of construction of the steps such as wood, concrete, metal, and the width and height of the steps. All of these factors can make a difference and cause a fall if you are not paying attention.
I have taken these measures for years inside my house. However, the outside of my house was my downfall. I have some stepping stones on my patio with spaces between them.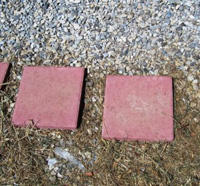 That is a definite no-no. I was wearing slippers (not the best of choices for walking in the garden) and my foot and slipper got caught between the stones. I took a hard fall into the fountain and was lucky that I fell to the side and not on my face. I wrenched my back but, thankfully, have no broken bones. The moral of the story is always wear good-fitting shoes that will not come off easily. If you must use stepping stones, make sure they are butted against each other with no lurking spaces between them.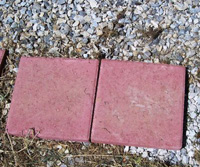 A word to the wise: If you live alone, make sure that a trusted friend or relative has a key to your house and checks on you on a regular basis or get involved in a telephone reassurance program so that someone calls you everyday to make sure you are OK. Many communities have these programs and you can find out about them by calling this toll-free number: 800-677-1116.
Think about obtaining a medical alert system through which you can call for help. These are available for a low monthly cost and sometimes for free through your local senior service program. You wear a water resistant pendant around your neck or a bracelet, which has a call button you push when you need help. The buttons summons your emergency contacts or 911. Some systems check on you periodically if no noise is detected in the home. Some home alarm systems include the option of a medical alert program. The system will work outside your home, within a certain number of feet. You can test your system to find out the limitations.
The key to being safe is to wear the pendants at all times. If you hang the pendant on a hook in the bath that you cannot reach, it will not help you. If you walk to your mailbox without the pendant and take a fall, it will not help you. I speak from the experience of some of my friends.
For more information about fall prevention, check out the Fall Prevention videos on VisionAware; use the home survey checklist to determine areas in your home that need "fall proofing."
Be safe, be aware, and take precautions