Interview with Mary Hiland, Author of The Bumpy Road to Assisted Living, a Daughter's Memoir
It's inevitable. It's likely to happen to all of us one day. Children often find themselves in the position of caregiver to their elderly parent(s), and it can be a shocking place to be.
In The Bumpy Road to Assisted Living, a Daughter's Memoir, Mary Hiland has offered an example, her own story, about how to navigate such difficult life circumstances. Her blindness made it more difficult, which serves as a lesson in perseverance.
Interview with Mary Hiland About Her Book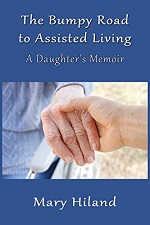 Question: What made you want to write this book?
Answer: I've always wanted to write a book, but I'm terrible at fiction, so I guess I was just waiting for a topic to fall in my lap, and when I had the most difficult two-and-a-half years of my life, I realized this was the time to write a book. As I said in my introduction, I wrote this book because I wish that I could have read it before I began the journey on the bumpy road to assisted living.
Q: Did you have any reservations about doing it?
A: Yes, I knew that I had to wait until my mother was gone because she would have been embarrassed by a lot of it.
Q: What was the most difficult part about writing it?
A: Writing was easy. It comes naturally to me but having someone else edit it and want to make changes that I did not agree with was sometimes difficult. The hardest part was to be patient while the proofreading was done.
Q: I see you divided a chunk of it up into sections and steps. What did this help you achieve, either during the experience with your mother or in the actual construction of the manuscript?
A: In the first chapter, I divided it into lessons learned to make a very long chapter easier to read. Then the rest of the book has quotes from my journal, which are set apart from the other text by a different font.
Q: What was the writing process like for you?
A: I started out with a blog called "Seeing It My Way," and it served as a jumping off place for a book. In other words, you can read some of the stories in my blog from way back in 2012, but I added a lot of text to make it more than just a series of blog posts.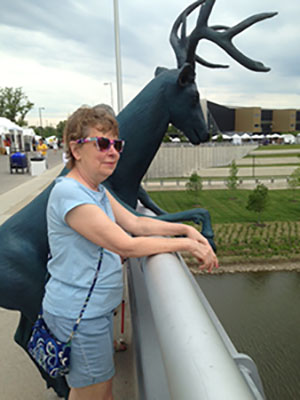 Q: What was your biggest challenge through it all with your mother involving being blind?
A: The biggest challenge was coming up with ways to entertain her. It was impossible for her to make friends because she had difficulty walking, hearing, and seeing, so I was literally her only friend. She hated television; she refused to play bingo, and reading, her favorite pastime, was now impossible. I tried introducing her to talking books and to the radio reading service, but she couldn't make sense of it. Because I can't drive, I couldn't take her out for lunch or for a drive or to the mall. Because of my dependence on public transportation, my visits had to be planned and timed. I wanted so badly to help her keep all her papers and belongings sorted, but because I am totally blind, that was impossible too. Conversations with her always ended in a list of all the things she hated about being there and the lament that she had no friends and was lonely and very bored. It was frustrating to not be able to do more for her.
Q: I am just one reader, but I am looking ahead to my own parents getting older in the coming years. What do you hope someone in my place will take from this book?
A: My advice to anyone in your situation is to network with others who have gone through it. Read articles and books on caring for elderly parents. Do your homework ahead of time so that you're not rushed if there is a crisis. Build up your network of friends and people who can help you with transportation. Visit each facility you are considering and encourage them to make it accessible to you as well as to your loved ones. For instance, one constant problem I had was knowing what was going on in terms of special entertainment or events. They had a big message board in the lobby, but my mother couldn't read it, and unless I asked someone to read it to me, I often found out about things after they were over. They had a newsletter and despite my repeated requests to have it sent in a format I could access, it was never done, so I paid a reader to go over it with me. The dining room staff never did get it that my mother couldn't see very well, so they would plunk things down without her knowing and then she would complain that she never got her salad or whatever. They would often have special dinners, where they invited families in, but it was always buffet style, and I would have to recruit my own helper because a buffet was impossible for Mom and for me. The first time they had a Hawaiian dinner, it was a disaster for us. And when the hospital discharged her after her broken hip, and she was bedridden, I told the nurse that someone would have to bring her meal and feed her, and I was told that they didn't have anyone to do that, that usually, the family did that. They just didn't get it that I was blind too, and there were certain things I just could not do. So I'd say, be sure they are prepared to be more helpful than usual.
Q: How do you feel about that time, the whole process, since the book was first written?
A: As I said earlier, it was the most difficult time in my life. I was physically and emotionally drained, and I probably bored everybody by talking about it all the time. Because I was the only living child, and my son's time was limited, and my daughter lived out of state, the majority of the responsibilities fell on my shoulders. I realize that it could have been a lot worse. I could have been trying to care for her in my home, but I knew that would never work for several reasons. One of the greatest impacts it has had on me is that I don't want my kids to have to go through any of it on account of me. I am terrified of dementia and Alzheimer's disease. I am constantly checking on myself to make sure I'm still mentally okay.
Final Thoughts
This interview was eye-opening. As a reader, I took a lot from Mary's story. Many things are often made more difficult when someone is blind or visually impaired. I could put myself in her shoes and understand the difficulties that she went through with her mother and how family dynamics change throughout one's life.
The flashbacks, not only from her earlier journal entries but also from a trip she took to the UK with her mother gave the book an added layer of history between mother and daughter. It showed a beginning to the difficulties ahead and provided a step away from the intensity of the main story line. It showed Mary's struggle to figure out how to be the best daughter she could be for her mother's sake.
You can check out more about Mary Hiland on her website.
If you are a caregiver with vision loss, check out these resources: