Retirement Living and Vision Loss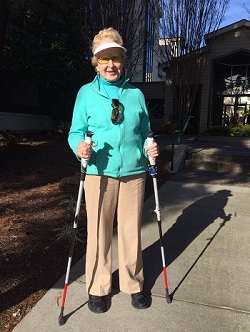 The time to retire has arrived. Perhaps you've looked forward to this time for years and planned to enjoy vacations or your favorite activities, such as fishing, bowling, genealogy, bridge, bingo, or reading. On the other hand, you may be concerned about retirement and the "big changes" that not working may mean in your life.
Another big change you may be encountering is that your vision is not quite what it used to be. What now? Should you think about staying at home? Moving to a retirement community or senior living facility?
Where To Live?
Trying to decide where to live in retirement is often a difficult decision to make – and perhaps your family members may be pressing you to move in with them. You know that having a good support system is critical as you get older, but you also don't want to be a "burden."
When you add coping with vision loss to the mix, making the "right" decision for you becomes that much harder. What should you look for if you decide to make a move? Do you want to live in sunny Florida or in a location with four seasons? Do you want to live near your children, grandchildren, and other family members? And not all retirement and senior living facilities are the same.
Regardless of where you choose to live, there are many things you can do to make your residence and your community safer, more enjoyable, and easier to navigate. At VisionAware, you can find information about:
New to vision loss? Our Getting Started Kit can help.