SiteWise™: Super Suggestions for Making Communities Senior and Vision Friendly
by Anne Riddering, OTR/L, CLVT, COMS
Making the Community Senior and Vision Friendly
In 2009, Henry Ford Health System's Vision and Neuro Rehabilitation Center of Michigan developed a program called SiteWise™ in response to our older adult patients reporting a decreased independence out in the community. The goal of the SiteWise program was to enhance community participation, offer low cost, easy adaptations, raise public awareness and educate staff in businesses and institutions that seniors with low vision frequent. These businesses and institutions included medical facilities and pharmacies, places of worship, banks, restaurants, libraries, community centers and public spaces. Sponsored by the Community Foundation for Southeast Michigan, SiteWise has 8 pamphlets that provide "super suggestions" for increasing access for people who are visually impaired
Checklist Developed
Over fifty businesses were evaluated in a three county area using a checklist which assessed the following areas: parking lots and sidewalks, entrances and exits, stairways, waiting areas and hallways, restrooms, and customer service areas. Businesses were given written suggestions of specific modifications that are applicable to existing facilities and can be incorporated into plans for renovation, remodeling and redecorating.
Recommendations That Apply to All Businesses
Medical Centers and Pharmacies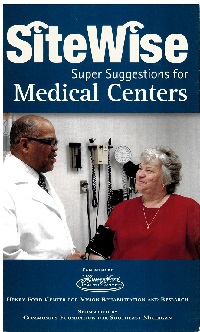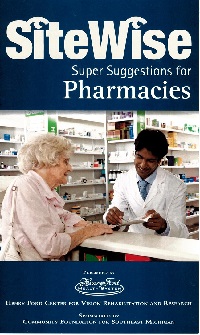 Places of Worship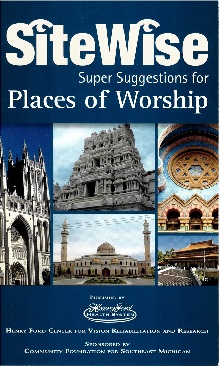 Provide good light in all areas accessed by public, such as pulpit/podium, sanctuary or altar steps.
Offer clip-on lights for use during services.
Offer announcements, programs, hymnals, service readings, newsletters in large print.
Banks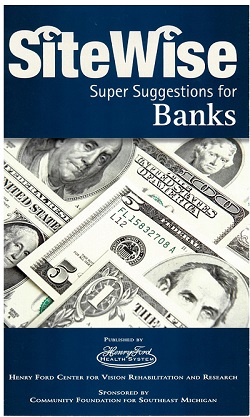 Provide task lighting at customer counters
Label slots for bank slips/forms.
Advertise high contrast, large print checks.
Position the ATM to minimize glare on the screen.
Outline slots for cards and deposits with contrasting color.
Restaurants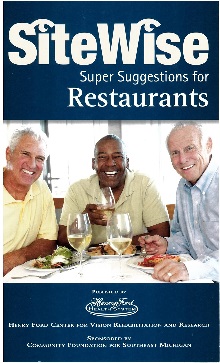 Provide sufficient lighting over tables and reduce glare with window coatings, blinds or table position.
Use table covers that contrast with dinnerware.
Print menu in high contrast colors and/or large print.
Assure good lighting in restrooms.
Use large print on restroom signs.
Libraries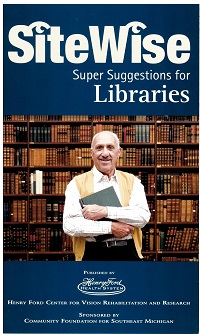 Outline glass doors, door dividers, handicap buttons, book drops with contrast paint or tape.
Provide accessible computers, positioned to minimize glare.
Provide resources for Library of Congress large print or talking books.
Community Centers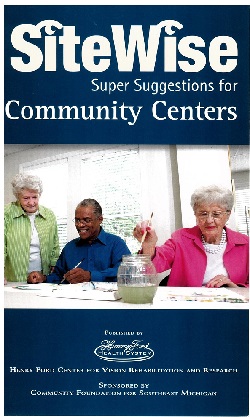 Public Spaces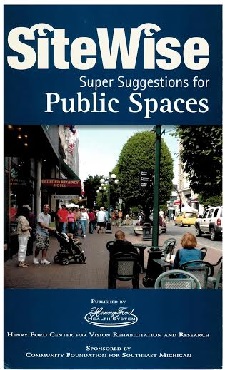 Outline pedestrian traffic light push-buttons in yellow.
Paint tops and sides of curbs, parking barriers, protuding objects and islands yellow
Suggestions for Businesses As a Whole
Maximize lighting and minimize glare: Seniors require more light than others to assure safe mobility and to complete near tasks. Conversely, glare from direct or reflected light undermines safety and function.
Provide the brightest light possible (approximately 600-800 lux for entrances and task lighting; 400-600 lux for ambient lighting).
Reduce glare by using awnings, shades and curtains.
Maximize contrast: Signs and printed material will be easier to see when there is color contrast between print or graphics and the background. The best contrast is black-on-white or white-on-black. Dark blue or dark gray could be substituted for black, and light yellow or light gray could be substituted for white.
Use contrasting stripes on step and curb edges, freestanding signs, protruding objects and trip hazards to reduce risk of injury and falls.
Use furniture that contrasts with the wall and floor.
Add contrasting color or yellow paint to railings and bases of freestanding objects and protrusions, such as signs, trash receptacles and planter boxes.
Maximize size: Signs and printed material, including signs, handouts and business cards, should be produced in the largest font possible. Copy machines and computers can also be used to enlarge print for individuals with low vision.
Summary
In summary, there are increasing numbers of older adults who wish to remain active but are having difficulties due to vision loss. Vision loss will continue to increase as baby boomers age. Simple changes to our buildings and services will allow persons with vision loss to stay safe and active in businesses within their communities.
Obtaining SiteWise Materials
If you are interested in ordering SiteWise booklets, please contact Anne Riddering at ARIDDER1@hfhs.org.
Resources on VisionAware