Anne Riddering, OTR/L, CLVT, COMS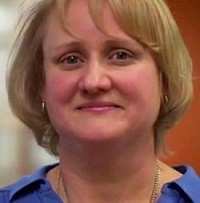 Anne Riddering is the Director of Rehabilitation Services for Henry Ford Health System's Visual Rehabilitation and Research Center of Michigan. She has taught in the Western Michigan University Occupational Therapy Department, and is a guest lecturer in the Occupational Therapy Department at Wayne State University and Eastern Michigan University.
Anne is a frequent lecturer in visual rehabilitation for community and professional groups locally and nationally. She has authored numerous articles for occupational therapy publications, has served as consultant for the American Occupational Therapy Association's Self-Study Course Rehabilitation for Adults with Low Vision, for the book Macular Degeneration: The Complete Guide to Saving and Maximizing Your Sight, and for VisionCare Ophthalmic Technologies' IMT Rehabilitation Training Manual.
She has recently authored vision and cognition chapters in Miller and Pellerito's (Eds.) Preparing for the Occupational Therapy National Board Exam: 45 Days and Counting. Anne has served as the secretary/treasurer for Association for Education and Vision Rehabilitation Professionals for the Blind and Visually Impaired (AER) Division 7 (Low Vision Rehabilitation Division), as a member of the Division 7 Awards Nomination Committee, and AER's by-laws committee.
She was a committee member for low vision therapists for the Academy of Certification of Vision Rehabilitation and Education Professionals, the American Occupational Therapy Association's Specialty Board Panel on Low Vision Rehabilitation and The Low Vision Consensus Project. Anne is a member of the American Occupational Therapy Association and the Association for Education and Rehabilitation of the Blind and Visually Impaired.
She currently has been appointed by the governor of Michigan to the board of Michigan Council of Rehabilitation Services and serves on the Executive Board. Anne's other interest areas in low vision include geriatrics, environmental modification, return-to-work adaptations, sports participation among the elderly and research in the field of low vision and blindness.