Gil Johnson, MA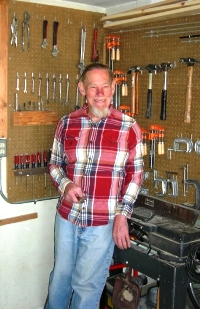 Gil Johnson is the author of Gil's Guide to Home Repairs, Gil's Guide to Woodworking, and Parenting or Grandparenting with Vision Loss on the VisionAware website.
Gil's father was a plumber so he began learning about plumbing projects by working with him on Saturdays. He learned much about woodworking techniques from a blind instructor who taught woodworking in high school. Read Gil's story.
Gil attended the Minnesota Braille and Sight Saving School in Faribault Minnesota as a day student for 12 years, graduating in 1956. He received a BA degree in psychology and a MA degree in counseling and guidance from San Francisco State University.
Gil's career began as a Rehabilitation Counselor and Supervisor with the California Department of Rehabilitation. He proceeded to work for more than 40 years in various agencies as a rehabilitation counselor, supervisor, manager, and director in public and private rehabilitation agencies. In 2008, Gil retired from the American Foundation for the Blind where he served as Senior Advisor on Critical Issues and Director of AFB's National Employment Center.
Over the years, Gil has maintained his homes including re-shingling the roof, replacing electrical wiring, numerous plumbing repairs, and installation projects He also designed and built furniture such as dressers, nightstands, book cases, and bunk beds.
In addition to home repairs and wood working, Gil has owned and ridden a tandem bicycle for over 40 years. Gil and his wife are guardians for three of their teenage grandchildren.
Gil hosts the Repairing Your Home message board, where you can ask him questions about home repair after vision loss.