Ira Marc Price, O.D.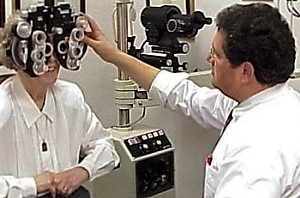 Since 1990, Ira Marc Price has been the Clinical Director of the Low Vision Services Program for Helen Keller Services for the Blind (HKSB) in Brooklyn, NY. The Low Vision services Program is designed to help individuals maximize residual vision.
As Clinic Director, Dr. Price is responsible for all patient care, including consultation, diagnosis, and treatment options. Outside of HKSB, Dr. Price owns and runs an optometry practice in Woodhaven, N.Y. that provides complete family eye care.
Dr. Price received a Doctorate in Optometry from the State University of New York School of Optometry and received his low vision training from Dr. George O. Hellinger, one of the founders of low vision rehabilitation, at the Industrial Home for the Blind (name changed to Helen Keller Services for the Blind in 1985). Dr. Price has been a New York State-certified low vision specialist since 1988. He received his Bachelor of Arts from Brandeis University.
In 2000, he co-authored the book, Coping With Macular Degeneration: A Guide for Parents and Families to Understanding and Living with Macular Degenerative Vision Disorder.