Julia E. Brock, M.A., CVRT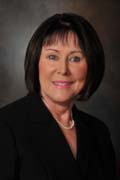 Julia Brock is a consultant in the field of blindness and other disabilities with over thirty-one years of experience. She has most recently been serving as Outreach Coordinator for VisionAware within the state of Alabama.
Mrs. Brock earned the Bachelor of Science from Jacksonville State University and the Master of Arts from the University of Alabama. She has completed the Geriatric Core Curriculum at the University of Alabama in Birmingham. Additionally, she has completed graduate work in the fields of counseling and adult education at the University of Alabama.
She is a Certified Vision Rehabilitation Therapist with the Academy for Certification of Vision Rehabilitation and Education Professionals (ACVREP). Mrs. Brock is also an active member of the Association for the Education and Rehabilitation of the Blind and Visually Impaired (AER). Currently she serves on the Alabama Chapter AER Board of Directors as Secretary and as Alabama Chapter Scholarship Chairperson.
She is the recipient of the Alabama Chapter AER Hezz Cox Award, the Charles B. Grider Award, and the Title VII Chapter II Older Blind Programs Raymond C. Melhoff Award.