Karanjit S. Kooner, M.D.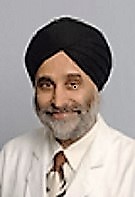 Karanjit S. Kooner, M.D., Ph.D., is an associate professor at the Department of Ophthalmology at the University of Texas Southwestern Medical Center. He is a board-certified ophthalmologist specializing in glaucoma.
After graduating from Dayanand Medical College in India, he completed his ophthamological training in Europe. His glaucoma fellowship was done at Ochsner Clinic and LSU Eye Center in New Orleans. His major research interests include the use of lasers and other surgical modalities in glaucoma, nerve fiber layer analysis in glaucoma, and noncompliance in glaucoma. He has won several awards for his work.