Lylas G. Mogk, M.D.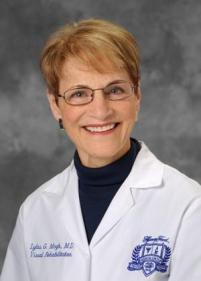 Dr. Mogk is an internationally recognized expert on age-related macular degeneration. She is the founding director of the Center for Vision Rehabilitation and Research, part of the Department of Ophthalmology of the Henry Ford Health System in Michigan, where she and her team of a low vision optometrist and seven occupational therapists specializing in vision rehabilitation help individuals with vision loss, much of it from macular degeneration, maximize their independence and quality of life.
She is the author of Age-Related Macular Degeneration on the VisionAware website and co-author (with her daughter Marja Mogk, Ph.D.) of Macular Degeneration: The Complete Guide to Saving and Maximizing Your Sight.
Dr. Mogk is chair of the Michigan Commission for the Blind, advisory to the Michigan Bureau of Services for Blind Persons, and former chair of the American Academy of Ophthalmology (AAO) Vision Rehabilitation Committee and Board member of the National Accreditation Council for Blind and Low Vision Services. She speaks regularly to physicians, vision rehabilitation specialists, occupational therapists, and community organizations nationwide about macular degeneration and visual rehabilitation. She was awarded the prestigious AFB Migel Award in 2011.