Parul Khator, M.D.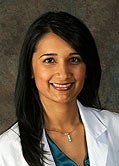 Parul Khator, M.D., is a board-certified ophthalmologist fully trained in all aspects of general ophthalmic eye care and surgery.
Dr. Khator completed her undergraduate and medical school training in a combined six-year program at the University of Miami and University of Miami School of Medicine. She specializes in the diagnosis, management, and treatment of glaucoma.
She completed her fellowship training in glaucoma at the Wills Eye Institute, one of the nation's top glaucoma programs. She practices in Atlanta, Georgia, and manages the full spectrum of glaucoma, from early to advanced disease, performing both laser and incisional therapy.
She performs cataract surgery, laser therapy for diabetic retinopathy, and intraocular Avastin and Lucentis injections for diabetic retinopathy and macular degeneration. In addition to her practice, she has published articles in academic journals and is a co-author of two book chapters on glaucoma surgery.