Tina D. Turner, M.D.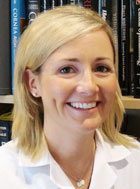 Dr. Turner is a staff comprehensive ophthalmologist at Henry Ford Health System's Grosse Pointe Ophthalmology. She graduated magna cum laude from the University of Tennessee with a BA in chemistry, received her MD degree from Baylor College of Medicine in Houston, and completed her ophthalmology residency at the University of Michigan's Kellogg Eye Center.
Dr. Turner is the author of An Introduction to Cataracts and Cataract Surgery on the VisionAware website. She lectures widely on many topics in ophthalmology to ophthalmology residents, family medicine residents, emergency medicine residents, ophthalmic technicians, surgical technicians, and patients.