Tips for Living with Combined Hearing and Vision Loss
Provided by the Helen Keller National Center
Hearing loss can increase with age, which can be especially difficult for those experiencing combined hearing and vision loss. Fortunately, you can take steps to remain fully engaged in the world around you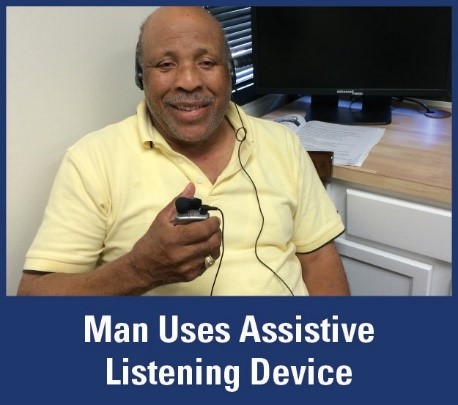 To Enhance Communication via Speech:
If you have an assistive listening device with a directional microphone, sit with your back toward the crowd noise. Point the microphone toward the wall or back of the booth so the sound will bounce back.
Sit with your back to windows to avoid glare.
Ask Others to:
Just speak naturally and clearly, enunciating words without shouting.
Speak to me without objects or hands in front of your face.
Gently tap me on the shoulder and remain in one place until I locate you.
Say my name before talking to me. (Ex: Hi, Joe, it's John. How are you today?).
Stay close by when talking to me but don't encroach on my personal space.
Stand or sit near my better ear.
Be patient if I ask you to repeat yourself so that I can understand what you are saying.
Let me know if my voice is too low or too loud. (Draw a line up or down my arm to lower or raise my voice, much like a volume control).
Let me know when you are leaving the room.

Provide visual and environmental Information such as share observations with me about the space, noise level, activities, and what others are doing and how others are reacting.
Dining at a Restaurant:
When going out to eat, plan ahead when possible
to reserve seating in a quiet, well-lit area (away from the kitchen and front
entrance).
When possible, sit with your back against a wall
or high-back booth so that the sound will bounce back to you.
Ask the wait staff for the help you need, such as reading you the menu, assisting you in the buffet line, telling you what is on your plate, and/or alerting you to a beverage refill.
Enjoying TV
Consider sitting closer to the TV to hear (understand speech) and see it better.
To reduce glare, position the TV so that your back is to a window and close blinds or curtains.
Try a TV headset, one-on-one wireless FM system or assistive listening device to enhance hearing.
Technology to Enhance Communication Hearing Aids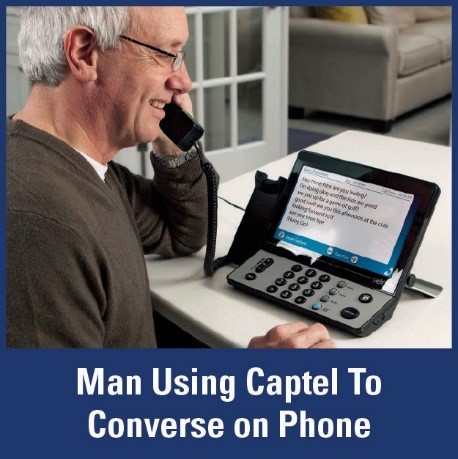 There are a variety of sizes and styles of hearing aids. Contact a licensed audiologist to see which type aid will best benefit you. For information: 800-638-8255 or https://www.asha.org/.
Assistive Listening Devices
There are a variety of devices can be used with or without hearing aids. The telecoil feature of a hearing aid can be turned on by the audiologist in order to connect to the loop system at a public place, such as a movie theatre, for better sound quality.
Low Vision Aids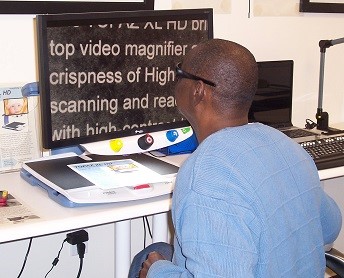 If you have low vision, you may benefit from an electronic magnifier or other magnification devices, and phone apps like Be My Eyes and Seeing AI. Visit a low vision specialist for help.
Hearing and Vision Loss Resources:
HKNC's ten regional offices extend its reach across the United States. Each regional representative connects people with combined hearing and vision loss, their families and service providers with consultation, advocacy, assessment, training and referrals to local programs.
HLAA provides adults and children with tools for self-help and promotes understanding of the nature, causes, complications, and remedies of hearing loss.
Financial Assistance for Hearing Aid Programs
The first step for financial assistance resources for hearing aids (and other technology) is to check with the health care insurance provider to find out if they carry hearing aid coverage. After that, check out the programs listed here to find out eligibility for services.
iCanConnect
iCanConnect, the National DeafBlind Equipment Distribution Program, is an FCC program in all 50 states, Puerto Rico and the U.S. Virgin Islands. It offers free distance communications technology and training for people who qualify.
Telecommunications Equipment Distribution Programs
(TEDPs) provide free or low-cost equipment to qualified individuals to accommodate hearing loss and improve phone access. State Telephone Programs – Telecommunications Equipment Distribution (hearingloss.org)