Ana L. Cuevas
Reaching an American Dream of a Different Kind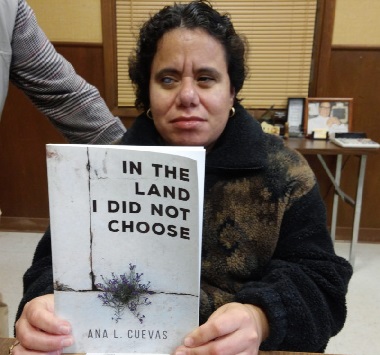 I have been blind since birth, my medical diagnosis is Leber Congenital Amaurosis (LCA). I have completed a Bachelors in Political Science and a Masters in Sociology. In 2016, I published my first book In the Land I Did Not Choose, which is a personal narrative of a child who was brought to the United States a few months shy of turning twelve knowing two words in English. My book is by no means a narrative of triumph or glory. I have consciously made the decision to concede the triumph, glory, and merit to the blind men and women who preceded me, who had the courage to set foot on a college campus prior to the Americans With Disabilities Act of 1990, under more difficult circumstances than mine. As a graduate of this generation, I have the moral and professional responsibility to honor their work and do whatever is within me to make the road wider and safer for the generation of blind men and women who will be following my footsteps in the near future.
A World With Fewer Limits
I want to work and leave a world with fewer limits for future generations of blind men and women. I firmly believe that being a sociologist puts me in a great position to work and help the organization accomplish some goals. From personal experience, I know that willingness and a good attitude play an important role in helping to remove barriers. However, I believe that acknowledging our limitations is fundamental to removing the barriers that in this day and age still preclude us from reaching our full potential. It is true that scientific and technological advances have certainly helped to make some things easier, but it appears that scientific and technological advances have done little to abolish the prejudice and stigma society still holds against us.
The Importance of Removing Barriers
As a blind Hispanic woman, I feel it is important to provide information in Spanish, to remove language barriers. I am cognizant that the task is not easy and the biggest challenge stems from the cultural differences that exist between Hispanics and Anglo Americans. I want to be pro-active and do what I can to ensure that Hispanic blind persons and their families have equal access to the same amount of information available to the rest of us. I am fluent in both English and Spanish, which places me in an excellent position to help remove the language barrier. to advocate for the development of technology to help us accomplish daily tasks with ease and to discourage its excessive use if it is leading us to forget our human essence!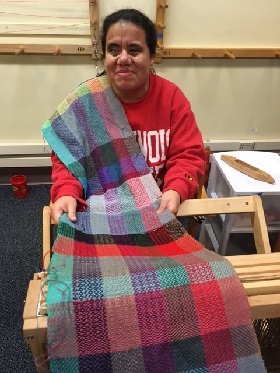 In addition to all of these accomplishments, I still like to make time for my favorite hobbies, knitting and weaving!