Elizabeth Sammons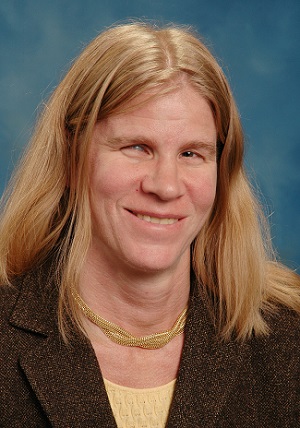 Discovering that Elizabeth's congenital eye condition rendered her completely blind, a doctor told her parents to institutionalize her when she was six weeks old. Her parents ignored this advice, believing in the ability of mind and spirit to approach life with meaning and wonder. By fifth grade, before mainstreaming laws were in place, Elizabeth integrated into public school after several years in blind and visually impaired classes. This is why Elizabeth considers mentoring blind youth among her most important projects; even today, few professional role models for students with disabilities are available.
Elizabeth graduated from high school when she was 16; primarily because she was tired of the bullying she experienced throughout school and resolved to graduate as soon as she could. After an exchange year in Switzerland, she double majored with honors as an undergraduate in three years. By age 22, she earned an M.A. in Journalism at The Ohio State University. She expanded her international interests by mastering several foreign languages through a combination of academic study and volunteering with incoming immigrants and refugees needing support in the USA. After the end of her education, she was selected as a cultural ambassador on Design USA  part of an ongoing citizens exchange exhibit to the then Soviet Union. She continued for the next decade as a Peace Corps volunteer teaching English in Hungary, a nonprofit manager of a news advocacy group in Central Asia, and a teacher, interpreter, marketer, and cross-disability advocate in Novosibirsk, Siberia.
In 2000, she returned to the US and worked as a claims representative for Social Security until her interest in further assisting others lead management to promote her into a public affairs role. In 2005, Elizabeth began as Legislative Liaison for Opportunities for Ohioans with Disabilities(OOD).  From 2011-2018, she provided OOD with writing, research, and outreach services as a program administrator. Her first novel, The Lyra and the Cross , was published in 2019, and she looks forward to publishing a second book based on her 1990 journal detailing her first experiences in the USSR.
 As needed, Elizabeth volunteers her interpreting skills, contributes occasional articles to a variety of publications, and speaks on issues related to cross-cultural communications and events in Russia and Eastern Europe. She served as president of her Lutheran church for one year and on the Ohio Governor's Council of People with Disabilities for six years. She is also an APH CareerConnect mentor.
Elizabeth lives in Ohio with her husband of 20 years. Their daughter Sophia is following in Elizabeth's footsteps as an avid world traveler as an epidemiologist.
Read blog posts by Elizabeth Sammons on the Visually Impaired: Now What? blog.