James Boehm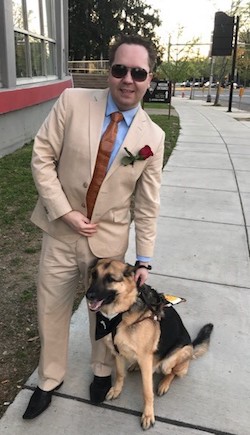 Determination and mission summarize James Boehm's way of life. Since becoming blind in 2010 from a suicide attempt, James has continually challenged himself, not allowing his loss of vision to keep him from the many available opportunities in this new chapter of his life.
Business
Boehm, former automotive restyling business owner of 15 years, now uses his experience with customization and design in his new enterprise, Kustom Cane. He designs and personalizes mobility canes, dog harnesses, and other accessories to sell on KustomCane.com.
Education
In 2012, James began furthering his education at Middle Tennessee State University with the intention of acquiring a masters degree in psychology; in turn, his goals include becoming a clinical counselor to empower others using his own experience with vision loss, helping others to see that life has not ended, but has just begun. James graduated in 2016 with Magna Cum Laude honors and with his bachelors in psychology, minoring in social work and mental health counseling. To that end, hes was accepted into a very competitive program at Peabody of Vanderbilt University to continue his clinical counseling track, a program that accepted only 20 students for their program.
Community Involvement
James is an active member in his community and in the National Federation of the Blind (NFB), serving as president of his local Nashville chapter. James started the Tennessee Association of Guide Dog Users and served as president of the division until taking a board position in 2016, in order to become more involved on a national level. As secretary of the state of Tennessee's affiliate, James serves on the board, as well as on many committees, including the fundraising committee with the National Association of Guide Dog Users, the law and policy committee of the Human Services division, and a member of his state's membership committee. James regularly presents and maintains an email list regarding assistive technology, with Apple products being his specialty. In 2014, James was a winner of one of the national 2014 NFB scholarships and two other scholarships, while maintaining a GPA of 3.9 at Middle Tennessee State University.
His mission is to demonstrate and emphasize that with the appropriate education, attitude, and training, blindness is a characteristic, not a disability, and it should be embraced as one lives a fulfilling life. Blindness does not limit-low expectations do! We can live the life we want and be a strong contributor to society.
Related Articles