Jeannie Johnson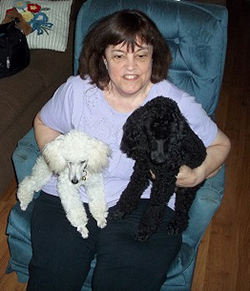 Born two months premature, Jeannie Johnson spent six weeks in an incubator, resulting in total blindness from retinopathy of prematurity. As a small child, she had no idea she was any different from any other child. Jeannie attended the Perkins School for the Blind, the California School for the Blind, and graduated from the Tennessee School for the Blind. Having lived there more than anywhere else, she considers Nashville, Tennessee, home.
Jeannie has a Bachelor of Arts degree in special education from Eastern Washington State College, now University, and a master's degree in special education with visual impairment emphasis from George Peabody College for Teachers of Vanderbilt University. For eight years, she taught students of all ages who were blind or visually impaired and intellectually impaired. Before retiring, she taught at a rehabilitation center for 26 years. She instructed adults who were blind or visually impaired in adaptive kitchen skills, home and personal management, braille, adult basic education, communication skills, some assistive technology and, for a very brief period, basic orientation and mobility. She is passionate about braille and literacy and is always eager to help others who are visually impaired through her knowledge, experience, and skills.
Jeannie is active in the Middle Tennessee Council of the Blind and the Tennessee Council of the Blind. She volunteers with and is a board member of a non-profit Paratransit agency, On Demand Paratransit, and is a foster mom with a local pet rescue organization. She and her husband happily share their love and home with four small dogs and two cats. She considers herself a realistic optimist.
Read blog posts by Jeannie Johnson on the Visually Impaired: Now What? blog.