Joy Thomas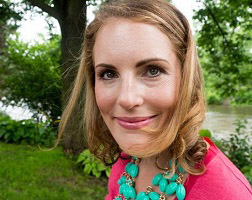 Joy Thomas is a storyteller at heart and loves exploring the world around her. A recent new adventure led Joy from the Chicagoland area to Southern California, where she lives with her bearded musician husband, two young daughters, and guide dog, Roja. With a background in social work and teaching, Joy loves sharing her passion for creativity and wholeness and currently teaches literacy and writing courses to children of all ages. In additional to teaching, she is a freelance writer and speaker.
During her coveted free time, Joy is an avid reader and loves memoirs and satirical pieces and most anything by Elisabeth Gilbert. With her family, she loves paddle boarding, biking, and relaxing at the beach. While doing dishes, Joy enjoys listening to podcasts. When she wakes up early enough, she practices yoga and occasionally walks the long, arduous block to the workout center to use the elliptical.
Joy was diagnosed with retinitis pigmentosa when she was five years old and has been legally blind as long as she can remember.
Read blog posts by Joy Thomas on the Visually Impaired: Now What? blog.