Linda Fugate, EdD, CVRT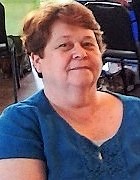 Linda Fugate received her Bachelor of Arts in History from Indiana University, Southeast, and a Master of Science in Rehabilitation Teaching from Florida State University.
She recently completed an EdD in Counseling/Psychology at Argosy University where her dissertation topic was adjustment to vision loss. Linda currently works as a rehabilitation teacher for the Alabama Department of Rehabilitation.
Linda's decision to become a Certified Vision Rehabilitation Therapist (CVRT) was a very personal one. She is visually impaired and, although she was diagnosed at a relatively young age (15), she says that she spent the next 20 years hiding it. During her career, she spent many years teaching special education preschool, so the idea of teaching others in the same situation appealed to her.
She is still new in this field; however, she says, "I have a lifetime of personal trials and conquests to draw upon. For me, vision loss was always a fact of life, just as being left-handed and short are facts of life. And sometimes being left-handed is more difficult! This is not true for those who are new to vision loss. My goal remains to assist those who are struggling to gain their lives back and show them the light at the end of the tunnel."
Read blog posts by Linda Fugate on the Visually Impaired: Now What? blog.