Lynda Lambert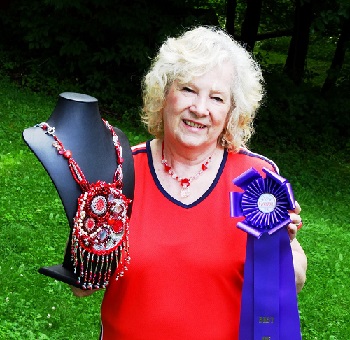 A retired professor of Fine Arts and Humanities at Geneva College in Beaver Falls, Pennsylvania, Lynda's creative nonfiction essays and poetry have been featured in anthologies, academic books, and journals as well as literary magazines. She is also the published author of the book Concerti: Psalms for the Pilgrimage, a Collection of Poetry, Reflections, and Drawings. In addition, she keeps up with two blogs, one available on her Lynda Lambert website and one entitled SCANdalous.
Lynda was diagnosed with ischemic optic neuropathy in 2007. Lynda learned that she could get help from Blind and Vision Rehabilitation Services of Pittsburgh, the Keystone Blind Association in New Castle, and the Pennsylvania Bureau of Blindness and Visual Services in Erie, PA.
Once through her training, she started knitting again; then at the advice of a friend, Lynda went into making pottery. After finding out about about video magnifiers, she decided to try doing beadwork using an Acrobat video magnifier. Her first project involved making a bead talisman. On completion, Lynda christened the work "The Dragon's Healing Breastplate" because it rejuvenated her, fully returning her life as a working artist. She recently traveled to Louisville, Kentucky, to receive a third place award for her encrusted beadwork at the Museum of the American Printing House for the Blind (APH) during the their annual meeting.
Lynda is the recipient of two awards from Magnets & Ladders Literary Magazine, Spring/Summer edition, 2018. She won first place for her poem, "A Sestina for Alfred Rieder's Widow" in the poetry division and second place for her essay, "The Connie," which is in her newest book, Walking by Inner Vision: Stories & Poems.
Read Lynda's personal story about being a seasoned writer and artist.
Read blog posts by Lynda Lambert on the Visually Impaired: Now What? blog.