Lynley Hood, MSc LittD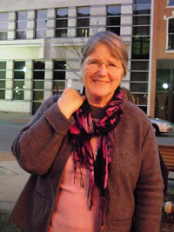 Lynley Hood, MSc LittD, lives in New Zealand. She is a scientist by training and a writer by occupation with a literary doctorate from the University of Otago. Two of her four books have won New Zealand's premier book award. She has served on the boards of the NZ Society of Authors and NZ Fulbright Alumni Association and has been active in many community organizations.
She was one of The Press (newspaper)'s "Six of the Best New Zealanders of the Year" in 2001, and one of North & South (magazine)'s "New Zealanders Who Made a Difference" in 2002 and 2003.
In 2009, Lynley developed visual impairment that compromises her ability to read. In 2011, she established a support group for visually impaired people in Dunedin. In 2012, she helped to establish a charitable trust to address the unmet needs of the 88 percent of visually impaired New Zealanders who are not eligible for help from the Royal New Zealand Foundation of the Blind.
Lynley and her late husband Jim have three children and three grandchildren.
Lynley is active on the VisionAware Message Boards. Read some of her responses and share your ideas and experiences for living and coping with vision loss.