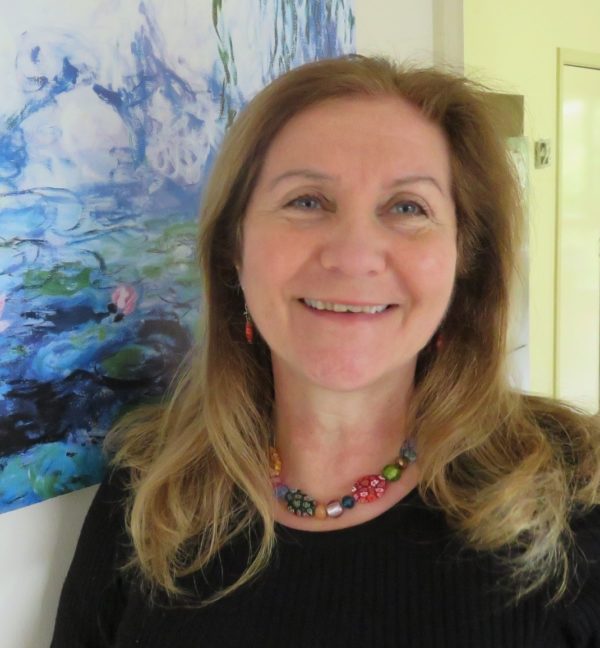 Maribel Steel
Maribel Steel is an author and freelance writer, award-winning speaker, certified vocational trainer, and sensory living specialist. Having been on the journey towards blindness since her teen years, she has learned many strategies in managing her eye condition, Retinitis Pigmentosa (RP).
Her experience of sight loss enables her to gain a clearer vision into human nature, and she helps people to look for the gifts we can all discover when we find courage to see beyond our life-challenges.
As a passionate nonfiction writer and memoirist, Maribel has over 250 short stories, personal essays and articles published in print journals, anthologies, magazines and online. She has been a peer advisor contributing articles for VisionAware since 2014 from her home city of Melbourne, Australia. In 2016, she was head-hunted from New York to write regular blog posts on Verywell.com network as the expert on 'Living Well with Low Vision'.
Blindness for Beginners: a renewed vision of the possible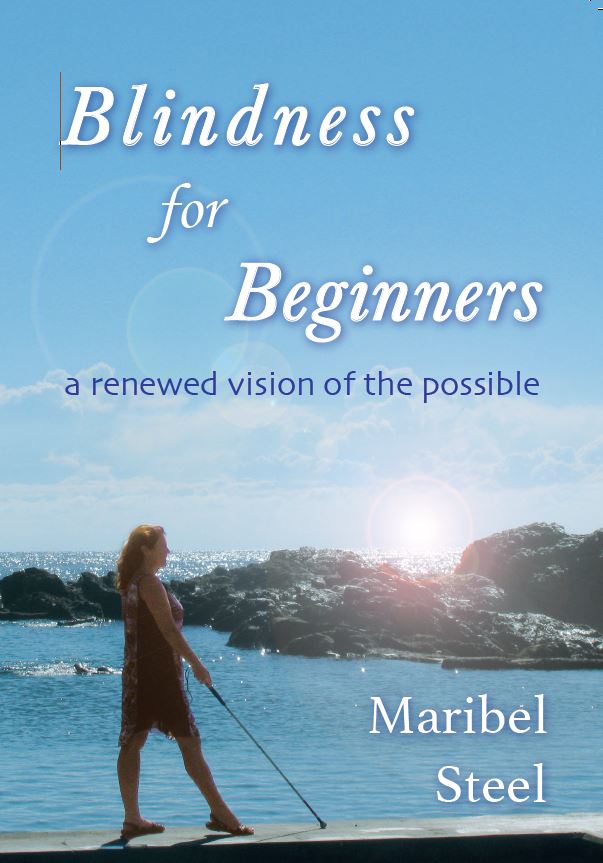 After the publication of her book in 2018, "Blindness for Beginners", the topic continues to spark interest in the media across Australia, UK and USA bringing a focus on 'ability' in disability. As a result, she appeared on national TV ,radio programs and international podcasts to help dispel the myths surrounding blindness. Her book is part memoir and part self-help, and is available on Amazon and in Audible and on Amazon USA
"I was struck by Maribel's ability to weave uplifting words together in such a fashion that I believed I could do anything. I see this book as a beacon of hope, inspiration and motivation." – Stephanae McCoy, Founder-CEO, Bold, Blind, Beauty
Creative Ventures
Maribel has four children, and eight grandkiddies. She has co-authored a book with her 9 year-old grand-daughter, and encourages young writers and their families to write stories together especially when COVID-19 restrictions kept us at home.
In her spare time, Maribel delights in tending to a garden of bright flowers and tasty vegetables, and cooking international cuisine.
Music and songwriting is also one of Maribel's pleasures. She has worked as a teaching artist leading children's choirs as a music program facilitator. Her weekly sessions were devoted to helping students from non-English speaking families gain better literacy through the appreciation of fun songs. She continues to play her role as "Big Ears" when working with her life-partner, Harry Williamson, in his recording studio where she listens acutely for quality control of CDs and audio book productions.
Presentations
In 2018, Maribel was invited to speak at the American Foundation for the Blind Leadership Conference in California to give an overview of the funding model for people with disabilities in Australia known as the National Disability Insurance Scheme (NDIS).
As an award-winning Toastmaster, Maribel has developed an engaging speaking style and mentors new speakers. She was invited by Vision Australia in 2019 to create and produce a series of podcasts called "Living with Possibility"
On November 8th this year, she will give a keynote address for the Association Vision Rehabilitation Therapists Conference – "The Bitter and the Sweet of Vision Loss". Please register.
The Dynamic Duo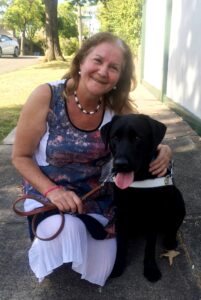 Maribel understands the challenges and rewards of working with both a long white cane and a guide dog, and has begun a new chapter in her life with Dindi, as the "dynamic duo". When she and her guide dog attend schools as part of an educational program, she is never quite sure if it is her engaging presentations or her adorable guide dog that captures the students' imagination.
Guide Dog Graduation Speech 2019
Read blog posts by Maribel Steel on the Visually Impaired: Now What? blog.