Mary Hiland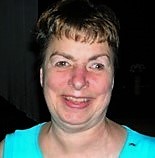 Mary Hiland is the retired Executive Director of the American Council of the Blind of Ohio. Before that, she was the Director of Volunteers for over 21 years at the radio reading service in Columbus.
Her other vocations include full-time mother, dance teacher, and freelance writer. She has been published in Redbook Magazine and in Chicken Soup for the Parents' Soul. In her new book, The Bumpy Road to Assisted Living: A Daughter's Memoir, Mary writes about the struggles of dealing with a parent who has Alzheimer's disease. Learn more about Mary's book by watching her video on YouTube.
Mary's passions include cross-country skiing, tandem bicycling, hiking, and public speaking.
She co-founded her local Toastmasters Club and is an active member of The Transitions Network, an organization of women over 50. She serves as chair of the Columbus Advisory Committee on Disability Issues in Columbus, Ohio.
On her blog, Seeing It My Way, Mary describes her adventures in living life as an energetic and outspoken woman who is totally blind as a result of retinitis pigmentosa. She also shares the joys of exploring her world with her Seeing Eye dog, Dora.
Read blog posts by Mary Hiland on the Visually Impaired: Now What? blog.