Sandra Burgess, MSW, LCSW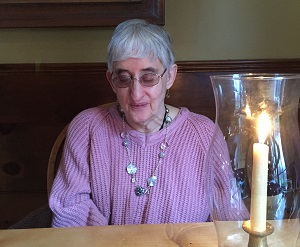 Sandra was born blind having only light and color perception. In her 30s, she began to develop significant hearing loss, and currently, she has some issues with balance. She is still able to benefit from a guide dog and has added a support cane to the mix.
After coordinating the Community Volunteer Program at Massachusetts Association for the Blind and Visually Impaired (MABVI) for ten years, Sandra returned to college to obtain her master's degree in social work. Since graduating in 2007, she has continued to work part-time in community mental health seeing children, adults, and couples and helping clients cope with anxiety, depression, blended families, sight loss, and traumatic brain injury.
Read blog posts by Sandra Burgess on the Visually Impaired: Now What? blog.