Stephanae (Steph) McCoy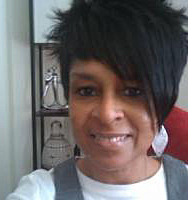 Eight years ago, going blind was not on Stephanae (Steph) McCoy's bucket list. Since life threw her this curve ball, however, how was she to continue her plan to change the world? Life produced the formula: Obsessive Compulsive Disorder (OCD) + Life-Altering Event = World Changed! Steph, always a little quirky, began with picky eating and excessive hand washing and progressed to extreme cleaning and a driven purposefulness that would make the TV character, Monk, weep. With most of her vision gone, Steph credits OCD for making the situation bearable due to numerous regimented routines. After the development of macular holes, cataracts, glaucoma, and a legally blind diagnosis later, Steph is still striving to change the world by:
Serving on the Board of Directors of Blind & Vision Rehabilitation Services of Pittsburgh
Serving as a Low Vision Committee Member and Chair of the Publicity Committee of the Pennsylvania Council of the Blind
Member on the Committee for Accessible Transportation (paratransit service)
Fundraising Committee Member of the Golden Triangle Council of the Blind (GTCB)
Led a team in raising over $10,000 in donations to finance research for Foundation Fighting Blindness
Campaigning for an international low vision awareness effort
Publicly speaking at various organizations on a range of vision loss issues
Because Steph is a single-minded, determined, advocate, and conqueror, it made sense that she would find a way to face losing her vision head-on by promoting low vision awareness and creating an open dialog to dispel societal myths on blindness and visual impairment. Helen Keller once said, "The only thing worse than being blind is having sight but no vision." Steph's vision is to educate and alter the mindset of how people view others with disabilities, and to that end, she is changing the world, one conversation at a time. For additional information, visit Steph's LinkedIn profile. Read blog posts by Steph McCoy on the Visually Impaired: Now What? blog.