Trina Bassak, DPT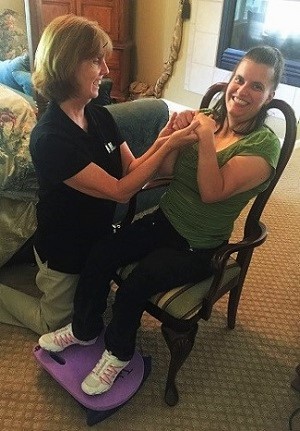 Trina Bassak, DPT (Doctor of Physical Therapy) is currently a home health Physical Therapist who is totally blind.
Trina started her journey through school with low vision as a result of congenital glaucoma and then a retinal detachment right after high school. Despite the difficulties, she went on to college and graduated from the University of Scranton. After two years working in an outpatient therapy clinic, the other retina detached leaving her without any usable sight.
Trina had services including orientation and mobility through Pennsylvania Bureau of Blindness and Visual Services, allowing her to continue working.
Trina later returned to college in order to keep up with her field, graduating in 2011 with a Doctorate in Physical Therapy.
After a move to Colorado in 2015 and getting connected with the Colorado Department of Vocational Rehabilitation to assist with accommodations, Trina continues to work in the profession she is passionate about.
She also enjoys gardening, roller skating, and being a 4-H leader with her husband. She recently tried cross-country skiing and has started horseback riding.
Read her personal story, The Job Hunt for a Physical Therapist Who Is Blind.
Read blog posts by Trina Bassak on the Visually Impaired: Now What? blog.