Key Findings: National Poll on Severe Vision Loss/Blindness
The American Foundation for the Blind fielded a national survey of 1,000 adults ages 18 and older on their attitudes and opinions of severe vision loss and blindness. The poll was developed by Widmeyer Research & Polling and Public Opinion Strategies. It was conducted between January 30 and February 1, 2007. The margin of error for the study is +/- 3.1 at the 95th percentile confidence interval.
Major Findings
Attitudes About Blindness/Severe Vision Loss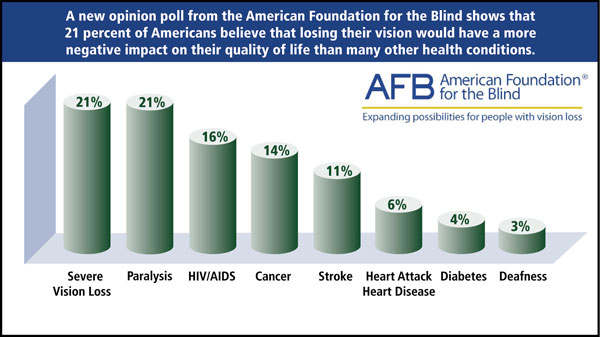 Americans believe strongly that losing one's sight would have a significant negative impact on their quality of life. Respondents said blindness and severe vision loss would have as much of a negative impact on quality of life as paralysis. In terms of which health condition would have the most negative impact, losing one's sight (21%) and paralysis (21%), ranked higher than HIV/AIDS (16%), cancer (14%), stroke (11%), heart attacks/disease (6%), diabetes (4%), and deafness (3%).
Three-quarters of Americans say that if they were to become blind or have severe vision loss, their biggest concern would be losing the ability to live independently.
Not being able to read (68%), properly identify medication (65%), and drive (64%) are also top concerns.
Interestingly, an inability to watch television or go to the movies is a worry for less than half of Americans (36%).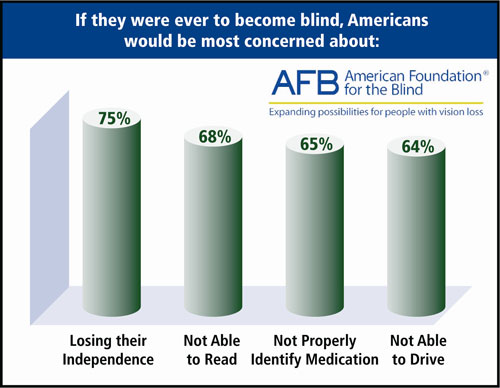 Taking Care of Our Eyes
Among Americans who reported doing activities like taking the pet to the veterinarian, having the car serviced, and having their eyes examined, almost all (96%) say they have their car serviced at least once a year and the overwhelming majority (88%) take their pet to the veterinarian at least once a year. Only 57% of those who go to the eye doctor do it at least once a year.
Seniors are slightly more diligent about their eye care—64% get an annual eye exam.
Impact of Severe Vision Loss on Society, Individuals
More than three-quarters of adults (85%) say they are very concerned about drivers with poor eyesight who put others at risk.
A majority of Americans express some concern that a close family member might become blind or have severe vision loss (64%), or that they themselves may experience blindness or severe vision loss (52%).
Almost half expressed concern about potentially having to care for someone who is blind or has severe vision loss (46%).
Awareness of Age-Related Vision Loss
Fewer than 3% of Americans say blindness/severe vision loss is the most important health concern for seniors.
When asked to name the health conditions most important to seniors, Americans perceived heart attacks/heart disease (34%), cancer (15%), stroke (15%) and diabetes (12%) as the most important.
Trusted Sources for Information on Severe Vision Loss/Blindness
A majority of Americans (56%) would turn first to physicians for information on blindness/severe vision loss. One in 5 adults (29%) would access information online, and 20% would seek help from blindness organizations.
Public Policy Issue
More than three-quarters of Americans (76%) say they support Medicare coverage of optical magnification devices and other low vision technology for people who have severe vision loss, devices that currently are not covered by Medicare.