The Americans with Disabilities Act Overview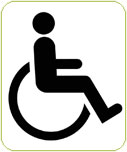 The Americans with Disabilities Act (ADA) is a federal law that prohibits discrimination on the basis of disability. The ADA affects employment, housing, health care, education, public transportation, and parks and recreation. It was signed into law on July 26, 1990 by President George H. W. Bush.
The ADA and Employment of People Who Are Blind or Visually Impaired
Title 1 of ADA makes it unlawful for any employer to discriminate against a qualified applicant or employee because of a disability in any aspect of employment. ADA Title I covers employers with 15 or more employees, including state and local governments.
The United States Equal Employment Opportunity Commission (EEOC) enforces the employment provisions of the ADA. The EEOC website provides a series of Questions and Answers about Blindness and Vision Impairments in the Workplace and the Americans with Disabilities Act that address the following issues:
when a vision impairment is a disability under the ADA;
under what circumstances an employer may ask an applicant or employee questions about a vision impairment;
what types of "reasonable accommodations" employees with visual disabilities may require;
how an employer can prevent harassment of employees with visual disabilities or any other disability.
ADA states that employers cannot prevent an individual from maintaining his or her job if the individual can perform the "essential functions" of that job. The employer is required to provide "reasonable accommodations" that allow the employee to perform his or her job effectively.
In some instances, the employer could state that the provision of work place adjustments would be too costly, or provide "undue hardship" for his/her business or organization; in most situations, however, the employee can resolve these issues by learning about appropriate resources that will provide information and, in some cases, financial assistance.
Additional Provisions of the ADA
The ADA limits the medical information that an employer may seek from a job applicant. For example, an employer may not require a job applicant to submit to a medical examination or ask about an applicant's disability before making a job offer. But the employer may ask all applicants if they will need a reasonable accommodation.
An employer may not withdraw an offer from a person whose vision impairment is a disability unless it can demonstrate that the applicant is unable to perform the essential functions of the position, with or without a reasonable accommodation, or that the applicant will pose a direct threat to safety.
An employer is only required to accommodate a "known" disability of a qualified applicant or employee. The requirement generally will be triggered by a request from an individual with a disability, who frequently will be able to suggest an appropriate accommodation. Accommodations must be made on an individual basis, because the nature and extent of a disabling condition and the requirements of a job will vary in each case.
An employer may ask questions about an employee's medical condition or require the employee to undergo a medical examination if the employer believes vision impairment is affecting job performance or safety. Medical examinations may also be required if the employee has requested reasonable accommodation to help the employee perform the job. All medical information must be kept separate from the employee's personnel files and treated as confidential.
Learn More About Your Rights
You can learn more about your rights by requesting a copy of the ADA Law (Public Law 101-336-July 26,1990–104 STAT. 327-378) from the Department of Labor or by contacting the U.S. Equal Employment Opportunity Commission-ADA.
Section 501 of the Rehabilitation Act provides the same protections for federal government employees and applicants. In addition, most states have their own laws prohibiting employment discrimination on the basis of disability. Some of these state laws may apply to smaller employers and provide additional protections to those available under the ADA.
The United States Department of Justice provides a Guide to Disability Rights Laws that briefly explains your rights under various provisions of the ADA and how to file a complaint if you feel you have been discriminated against on the basis of your visual impairment.
The ADA and Transportation
The ADA gives people with disabilities many important rights in the area of transportation. If you have a disability, you are entitled to the same right to use and enjoy public transportation as people without disabilities. Here are some examples of what your local transit authority must do to make a transportation system accessible.
Public buses need to be accessible to those in wheelchairs.
Drivers need to announce their stops out loud to benefit visually impaired persons who ride the bus.
Telephones, drinking fountains, and restrooms inside the terminal should also be accessible.