Employers and Older Workers with Visual Impairment
Older Workers With Visual Impairment Bring Value to the Workplace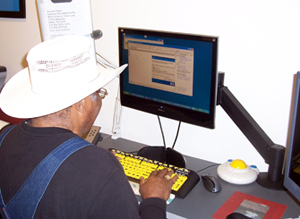 We recognize that employers need to get the most out of every employee to be competitive in the marketplace. What if you notice that an employee is having difficulty seeing, and that this is causing them to be less productive on the job? What if a valuable employee expresses concern that they may not be able to continue to do their job because they are experiencing loss of vision? What if either of these individuals have professional knowledge, skills, or contacts you would find hard to replace? As society deals with a variety of visual conditions that affect older individuals, these situations will become more and more common. Fortunately, advances in dealing with the effects of vision loss in the workplace, have come a long way. Both employers and employees are addressing the need for accommodations in a more realistic and open fashion. Employers have found that approaching workers, with understanding and solutions, can reduce concerns and result in helping good employees stay on the job.
Check Resources that Are Available to Enable a Person to Stay on the Job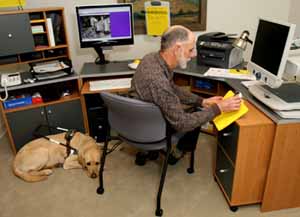 Assistive technology, skill acquisition, and practical solutions will overcome many functional limitations on the job. When blind or visually impaired employees gain confidence in using access technology and adaptive techniques, they can continue to contribute to an organization's success. Plus there are many workplace accomodations that can be easily made to allow an older person with vision loss to continue to work. Check the CareerConnect virtual worksites.
Diversity Is Essential
Diversity in the workplace is essential to our economy and truly reflects the American dream. Every state in the US has a vocational rehabilitation agency with trained professionals to help employers answer the question, "What help is available for an older employee or applicant with a visual impairment?" You can quickly find the agency in your state by visiting the APH Directory of Services and check the listing for "Employment and Job Training.