Retention of Older Workers Experiencing Vision Loss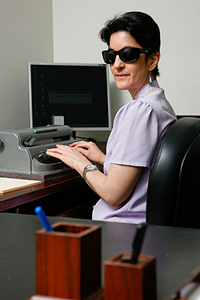 Hiring and Keeping the Right people Is Critical
As work becomes more knowledge-based, it's more important than ever to hire and retain good employees. As the baby boomers reach retirement age and leave the workforce, the knowledge they possess is leaving with them.
Younger workers often have low retention rates. They have little invested in the company in the early years, so movement is easy. One factor that can influence them to leave is if they perceive the environment as one where they can't get a leg up—they don't get an equal chance at advancement. This is especially true for members of minority groups.
Value of an Inclusive Environment
An open, inclusive environment will foster employee retention by demonstrating a valuing of diversity and its sister, equal opportunity. Inclusion of workers who are blind and visually impaired is a fast, highly visible, and inexpensive way to demonstrate an open, inclusive environment.
Studies Indicate that Turnover is Lower for Workers Who are Visually Impaired
Based on the experiences of major corporations, employees who are visually impaired show lower turnover rates than sighted employees:
The South Carolina State Commission for the Blind operates a customer service training program, placing graduates into a call center serving major rental car companies. They hired 15 visually impaired employees over a 3 year period into their call center. Despite overall high turnover in the center, 14 are still with the company (1 was dismissed for poor attendance after all appropriate remedies were exhausted). Ninety percent of this group consistently performs in the top 25 percent for all productivity ratings.
Hiring visually impaired workers improved retention and productivity at the Marriott Global Reservation Sales and Customer Care Center. This international hotel reservations center based in Santa Ana, California, modified its Pathways to Independence training program and developed partnerships with various organizations specifically to locate, hire and train associates who are visually impaired. Graduates of the program go on to staff the reservation center as Customer Care and Sales Specialists. Many have competed for and have been promoted into other positions. The program was launched to address the difficulty the company had in finding and keeping qualified workers. Turnover and productivity standards are no longer problematic.
Cost of Turnover
Turnover can be very costly, primarily in loss of productivity due to down time. This is particularly serious when knowledgeable workers leave your organization. The actual cost varies widely. A cost-of-turnover worksheet offered by The Society for Human Resource Management offers a generic guide to calculating turnover cost and can be tailored to suit a company's situation. It covers separation costs, vacancy costs, replacement costs, and training costs.