Empowerment to Work As A Senior with Visual Impairment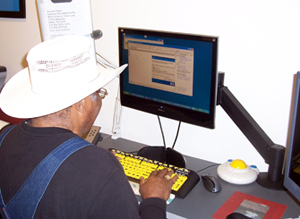 Empowerment
Empowerment comes from knowledge, tools and resources. The empowerment of individuals who are blind or visually impaired is crucial to achieving goals in life. Attacking a difficult situation like employment and vision loss is a brave, ambitious thing to do at any age, but even more so if you happen to be in your 50's or older. By now, you have most likely had several situations in your life where you already had to grab that proverbial bull by the horns for one reason or another. We hope to help you with information that will empower you , and in the end, your hard-won success will mean greater independence for you.
Knowing about Tools for Finding Employment and Being Patient Is Essential
There's a lot to learn. But, instead of allowing yourself to be frustrated and worried that you can't do it, try to enjoy the journey. Learning can be fun, and the information, lessons and tools we have for you are designed to make your experience easier as well as educational. If you have a problem, someone can help you by contacting connectcenter@aph.org.
Work With Your Local VR Agency
Vocational rehabilitation (VR) agencies exist in every state. Some states have an agency specific to blindness and low vision and other states have combined services for people with all types of disabilities. Find your state's agency through the APH Directory of Services and get connected. There will be an application process that may require one more visit to an eye care specialist to help them determine your eligibility for services. Try not to get frustrated with the process. It takes time. The point is to develop a relationship with the VR counselor that is a partnership, with both of you contributing to your successful outcome, which is continued or new employment. The VR program can help you acquire skills and tools to help you on the job. This may include orientation and mobility training (cane skills), computer and access technology training, job readiness skills and even on-the-job training, if you need it. Your program will be individualized to meet your needs and to achieve your goals. Be an active participant and keep asking questions until you understand the process in your state. VR agencies are funded by state and federal funds, so this is your tax dollars hard at work for you and with you. Get involved and help them to help you.
What More Can you Do?
Learn New Skills – If you haven't already been through a rehabilitation program, Go! There is no other way to be independent except to learn blindness skills and learn them well. You can locate your state's rehabilitation agency and/or other non-profit blindness organizations in your state or area by using APH's Directory of Services.
Update and refresh your resume – By using APH CareerConnect you will have access to a fully accessible, free, online, resume builder.
Fill out online applications – Most applications for jobs these days are online, not hard copies, and there can be challenges to this for people with vision loss. You can still get a hard copy in most cases, but your chances of getting noticed are better if you use the online form. If the online form is not accessible you can ask a sighted friend for assistance, get assistance from a local blindness organization or call and ask the employer to send you a hard copy. You may want to read a blog post about filling in online applications as well as some tips for filling in online applications.
Create a PDS – A Personal Data Sheet (PDS) is helpful because it gives a sighted assistant the information they need to fill out a resume for you. Read up on this tool, and create one and keep it handy.
Think Outside the box – read about older workers who found cool and unusual jobs. More than 60% of people find their next job through someone they know. In tough times, make sure people know you are looking. (These stories are not about blind or visually impaired people. The next group is.)
Our Stories – APH CareerConnect offers first person accounts about people with varying degrees of vision loss who are employed. They use the things anyone who is blind or visually impaired need to know about being successful. Many of these people are over 50 years of age.
Grow Your Connections Through LinkedIn, a professional career networking website.
Take the Job Seekers Toolkit course, a free, online, self-paced course for blind and visually impaired job seekers.
Do Your Research – The job market is improving and employers are becoming more open to the idea of hiring older workers. Some businesses are even offering formal retraining programs. This is in your favor! Businesses are also more open to the idea of hiring people with disabilities. To leverage your experience and skills, do your homework on the employer and find out if the employer has any strategies on their website for hiring people with disabilities.
Read the following articles on this subject so that you can converse intelligently with a recruiter or employer. You could be in a position to persuade them to do better, do more or even initiate the hiring of someone with a disability.
Know What the Employer Should Know About Hiring an Older Person with Vision Loss
To empower you, you need to know what an employer "should" know about hiring persons with a disability. A good employer will at least know the basics of disability laws (federal and state) and learn from the candidate with a disability what he or she needs by way of job accommodations. They will have an open mind about the person being able to perform their duties efficiently once they have settled in. What does this have to do with you since you are the potential employee, not the employer? Everything. Some employers still are not aware of the push by the Department of Labor (DOL) and the Office of Disability Employment Policy (ODEP) to hire persons with disabilities. They have heard of the Americans with Disabilities Act (ADA), but do not know what it says or aren't always sure how to properly interpret it.
Tips To Help You with Job Hunting
Whatever the job, dress accordingly.
Know your technology, take it with you on an interview and be ready to demonstrate it.
Practice and improve your communication skills, written and verbal.
Be organized.
Learn and implement time management skills
Read up on the company or employer with which you want a job.
Know the qualifications and skills the job you want requires then make sure you are up to speed.
Find out About Transportation Options
Read about transportation alternatives. check out this transportation guide. Learn mobility skills. Note: Much of the information on this page has been derived from the Bureau of Labor Statistics (BLS), Office of Disability Employment Policy (ODEP), the National Council on Aging (NCOA), the American Foundation for the Blind (AFB)and the Current Population Survey (CPS), a monthly survey of some 60,000 households that is the source of the national unemployment rate and many other labor market indicators.