Work Options for Seniors with Vision Loss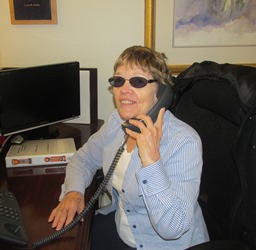 The job you do is limited only by your imagination, initiative and inspiration. Basic knowledge for the job tasks is required, of course, and the ability to cope with any limitations your vision loss may pose must be overcome with accommodations, but essentially, if you can dream it, you can do it. Answering some preliminary questions might help.
Preliminary Questions
Ready to Start Looking at Options for Employment?
If you have the answers to all of these questions, you may be ready to start looking at your options for employment. It may help you to know what other people who are visually impaired are doing in their jobs.
Jobs Currently Being Done by Older Persons With Visual Impairments
Here's a small sample of the jobs people who are blind or visually impaired are doing, by age group:
Workers 46-60
IRS Customer Service Worker
Blindness Rehabilitation including Orientation & Mobility (O&M),Counselor, and Vision Rehabilitation Therapist
Entrepreneur
Massage Therapist
Aquatic Gardener
Photographer
Legal Assistant
Editor
Office Manager
Research Assistant
Administrative Assistant
Computer Engineering Specialist
Youth Care Worker
Technology Project Director
Consultant
County Center for Aging worker
Nurse-in school, OB-GYN, university, and adult care settings
Systems Analyst, Oil Refinery
Executive Director of Disability Program
Education including English as a Second Language Teacher, High School Teacher, Religious Studies Teacher, Classroom Assistant, and College Professor
State Tax Policy Analyst
Administrative Facilitator
Workers 61-75
Director, Higher Education
Attorney
Case Worker
Free Lance Artist
Editor
Information & Referral
Computer Programmer
Technical Support
Wireless Technology Sales
Interested in Exploring More Job Possibilities?
If you want to explore more about what these and other workers are doing, visit CareerConnect. Check the Make Connections section. Then go to Find a Mentor to search for jobs that interest you to see if any blind or visually impaired people are doing that or a similar job. Or, you can read any of over one hundred stories about blind or visually impaired people and the jobs they do in the Our Stories section of CareerConnect, or from the Working Life Personal Stories on Vision Aware. All these mentors lost their sight at various times in their lives. Some were born blind, some lost their sight as a child, and some as an adult. The point is, all of them had proper training in blindness compensatory skills and successfully learned efficient use of the accommodations they need to perform their jobs as well as independent living skills. We believe you can too!
Suggestions for Next Steps
Contact your state vocational rehabilitation agency, local private blindness agency, and one of the national consumer groups (American Council of the Blind or the National Federation of the Blind) for help and support during your journey. You can use APH's Directory of Services to find what's available in your state or community.
Read and learn from the following articles: The Importance of Self-Advocacy and An Introduction to Resources for Older Workers with Vision Loss from the U.S. Office of Disability Employment Policy (ODEP)
Take these self-paced online courses for free: The Job Seekers Toolkit and Maintaining Your Job and Succeeding at Work
We know that getting a suitable job isn't easy for anyone with a visual impairment. But, we hope that knowing that opportunities for workers over 50 are increasing as employers are starting to look for and hire mature workers will keep you motivated.