Learn What Other Seniors Have to Say About Finding or Keeping a Job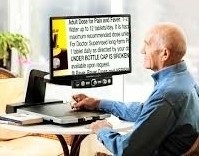 AFB recently conducted an online survey to obtain feedback about the work experiences of seniors who are blind or visually impaired. Only 19 people responded but we obtained some useful information that may help you in your journey. All the respondents were between the ages of 55 and 74.
Types of Jobs Held by Survey Respondents
The individuals who answered the survey had been employed in a variety of professions before their vision loss, including sales, nursing, interior design, consulting, seamstress/cashier, truck driving, manufacturing, writing, financial planning, realty, managerial work, and IT coordination.
After vision loss, over 40% still had the same occupation with adaptations to perform the job. A third changed occupations and one initially retired, started volunteering, and later became employed.
Change of Occupation After Vision Loss:
Former semi-conductor industry worker became a grocery store clerk
Financial planner became an ESL English teacher
Specialty store seamstress and cashier became a specialty store sales associate (same company, new job)
Supply base manager (manufacturer work) became a part-time maintenance person
Consultant became a job coach
IT coordinator became the director of the local vision loss support group
Reasons for Returning to Work
Financial return
Sense of accomplishment
Maintain current or return to former occupation
Desire to work and need to prove the ability to continue to work despite vision loss
Significant Obstacles Identified to Continuing to Work After Vision Loss
Difficulty adjusting to Normal Routine
Difficulty adjusting to new technology and devices and learning assistive technology
Dealing with vision loss and the public
Frustration with limitations of vision loss
Reading script or print
Difficulty getting around after vision loss
Difficulty adjusting to medical procedures as a result of vision loss
Received Help Continuing/Returning to Work
Sixty three percent of respondents reported receiving help on continuing or returning to work after vision loss and from the following sources:
Help from employer, coworkers, friends or family: 24%
Help from a rehabilitation service provider: 33%
Help from a non-profit, blindness organization or service provider: 33%
Help from their doctor: 1%
How Respondents Learned about Services
Counselor: 21%
Friend or Family Member: 5%
Health Care or Service Provider: 37%
Web Site: 37%
Exhibits or Promotional Information: 10%
Other: 32%
What Would Have Helped in Returning to Work
Respondents had the following to say:
A short counseling session by the eye surgeons about resources would have been nice.
Dependable, affordable transportation… is often non-existent and, if available, is it is sometimes hard to qualify.
Counselor coached me a little on what to expect and let me know about where I am on this journey.
The vocational rehabilitation director initially assumed I would retire. He suggested I apply for disability assistance. I would have appreciated a more positive approach. Once I made it clear I wanted to continue working, the mobility instructor and counselors were very helpful.
Deciding What Type of Work to Do
Respondents gave the following reasons:
Prior Work Experience: 68%
Talking to a Vocational Counselor: 21%
Receiving a Vocational Assessment: 16%
Availability of Job: 42%
Comfort Level in Performing the Job as a Visually Impaired Person: 42%
I loved what I was doing and wanted to continue. At age 63 I was not looking for a new career.
Hardest Part of Job Search
Finding somebody to hire a 70 year old guy who's visually impaired
Finding a job within my area
Options were limited because I could no longer drive. I lived in a small town with no public transportation.
Finding companies that allow remote work
Deciding where to go. I ended up in Vietnam as an English teacher.
Trying to find a job other than what I knew
Did no job search as could not return to prior profession due to loss of professional registration. This was a major part of my life identity so was quite an adjustment.
Completing a resume
Determining what position were available that met my skill sets
As an older worker, the hardest part was getting back into the rhythm of a regular work schedule.
Use of Assistive/Specialized Technology
Fifty three percent of respondents use assistive or specialized technology
Knowing What Assistive Technology(AT) to Use
Help from vocational counselor or assistive technology trainer: 42%
Found Information on their own: 37%
Got help from talking to employer: 16%
Talked to peers who have worked in similar jobs: 22%
Found information by reading about AT on the Web: 21%
Learning How to Use Assistive Technology
Self-taught through manuals, web info, etc.: 32%
Trainer from agency for the blind: 16%
Fellow employee: 10%
Peers who use AT: 16%
Employer's Concerns about Ability
My employer doesn't know yet.
Employer was not very accommodating per ADA guidelines even with multiple letters of explanation from my eye MD.
My employer knows my disabilities and has no concern about my abilities.
My employers have had no concerns and provided reasonable accommodations.
My employer was concerned about my abilitiy to do the job.
I am still in the process of overcoming my issues.
My supervisor's grandparent was legally blind with macular degeneration within a couple years of being diagnosed. His concern was that the disease would progress as fast for me.
Advice for Returning to Work Later in Life
There is quite a bit of support available. Use it.
Make sure employer is ADA compliant.
There are so many AT from the iPhone to computers that talk that if you are a person who may not be able to learn Braille, employ other methods.
Learn the building layout. Most importantly, learn where the stairwells are. They will become your way out in emergencies.
Have no fear and use every skill you know you've always had and new skill you've learned to accomplish and enjoy your new job.
I returned to work doing things very familiar to me. I had to learn a new computer program, and that was frustrating at first. I would advise someone to seek the familiar and to be willing to learn new technology. I would also advise maintaining a cheerful approach to vision loss. There are worse things, painful things, isolating things. Join a support group, or start one. Helping others, strangely, helps you. Get a reading machine. Show your Amsler chart to others and educate them about your condition.
Return to the work you know and love.
Don't give up! There is lots of help out there. Start with AFB.