Online Job Applications
It's Not Just the Wave of the Future, It's for Today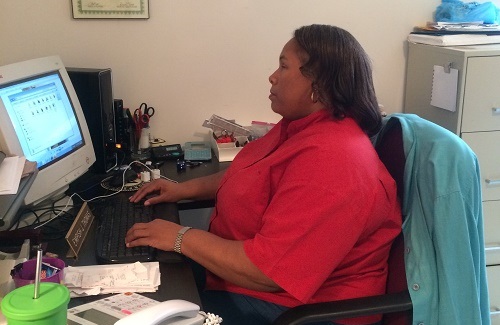 Although there are still places of employment that use paper job applications, most employers these days use online forms. There are at least thousands, if not more, of websites where you can fill out an online application form and leave your resume. Applicants can either apply online using the potential employer's website or via a mainstream or disability focused job site.
In most cases, for those of us with vision loss, this is a good thing since we can fill out the form on our own without assistance. Unfortunately, a few sites still are not fully accessible. If this is the case and you still really want to work at this particular place, you can have a sighted assistant serve as a scribe and read and fill out the application. Or, ask the company if they can email one to you. If they are not prepared with an accessible website or able to email you an electronic version of the application, it might possibly be an indication that they are not prepared to hire someone with a disability and you will have to pave the way. If you want to do this, that's great. But, don't forget to probe further to see how willing they are to accommodate you. (Be sure to refresh your memory with all the information on this site about job accommodations. Much of it is written for employers but it's the same information you need to know and that you can use to inform a potential employer.)
Preparing for Applying Online
Before you start applying for jobs online or off, to make this task go more quickly and smoothly, gather all the information you'll need to complete the application form.
What you will need:
An email address to use for job searching and correspondence with the potential employer
Other contact information (mailing address, main and alternate phone numbers, personal website address if you have one)
internet connection for access to all the job and company sites; if you don't have your own you can use a computer at the library, etc. Just be sure to log off of any sites on which you register or create a profile.
A fresh, up-to-date resume
Possibly a cover letter for some jobs
Your employment history
Educational background
A start date for your availability to work
Employment and/or personal references with contact information
If the sites you are using will allow you to create a profile with an option to be emailed whenever new jobs that you would be a good match for are posted, be sure to do that. By having your employment profile in the system, you can apply for positions that interest you with just a few clicks of the mouse or keyboard strokes. This way you don't have to start all over with each application.
Read more tips for applying online and be sure to check out Peer Advisor Empish Thomas's post about online applications.
Accessible Job Search Tools to Help You Through the Process
The following job tools are free. To use any of them you must first Register as a My CareerConnect User. It's a simple, one-step process.
Build or Update Your Resume
Create a Personal Data Sheet (PDS) to help share application information with a sighted helper
Use Private Message Boards to Consult with CareerConnect Mentors
Keep an Electronic Appointment Calendar
Finally, it is worth knowing that although some applications may ask for this information the following is not a requirement on a résumé: age, marital status, disability, race, religion, national origin, gender, sexual orientation or salary.
Additional Resources:
New Tool Helps Employers Ensure Accessibility of Online Job Application
TalentWorks: Helping Employers Make Their eRecruiting Tools Accessible