Tips To Help You Apply Successfully Online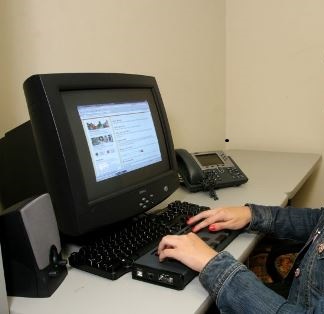 Question: What happens if you are blind or visually impaired and don't have the skills or technology to use the computer to fill out applications online?
Answer: Sometimes you can print the application and have a scribe fill it out for you, but this is not ideal. It delays getting your application into the right hands and the online applications will very likely be looked at first. Often, applicants that best fit the job are automatically sent to the "top of the list" by the employer's automated system and the employer does not see applications that are unqualified or unrelated to the job.
You may want to consider learning computer skills to enhance your chances at getting a job. Check with your vocational counselor or your local vision rehabilitation agency for help.
Question: How can you make sure your application rises to the top of the list?
Answer: All online applications go to a database of applicants and are sorted by relevance. It is only the ones that use the right keywords, which correspond with or match the job description, that go to the top of the list. Therefore, you must read the job description carefully and make sure your education, training, experience and skills match the description of the job you are applying for.
Also, increase your chances of getting an interview by using exact keywords and phrases. If you don't use the exact keywords and phrases the system wants your application will not be noticed.
Question: In this day of online and seemingly anonymous online applications, how do I improve my chance of getting an interview and job offer?
Answer: The secret is in networking. While we do recommend the use of job boards and company websites as a tool to learn about and look for jobs, only 4% to 8% of job hires in the U.S. come from job boards. A more proactive way is networking. Actively ask friends, acquaintances and family members for leads. Many jobs are never advertised. Knowing someone who knows someone is your best bet. Talk with your family, people you know in your neighborhood, at church, the grocery store, the doctor's office, anywhere you frequent where people know you. With opportunities you learn about in this way, the competition is likely to be less.
Question: How do I learn about companies in which I am interested?
Answer: Company websites are perfect places to apply for a job. If you have heard or read something about a company that interests you, go to their site and learn as much about them as you can. Look at available job postings and fill out the online application and/or submit your resume. If you can't find postings, try using their Site Map or Search tool.
If the company site is inaccessible with your technology, put the information you need to complete an application, such as your contact information, educational background, and employment history into Notepad or a Word document so a sighted family member or trusted friend can enter the information into the online application for you. Either way, having all of your information to commonly asked questions is a good idea since you can copy and paste, instead of having to type it all out. You'll also have the information to copy and paste into the next company site you use to apply for a job.
Question: How do I make the short list?
Answer: Even if you are told you can't talk to anyone at the company about a job, or even if it says not to call on their site, call anyway just to let them know that you are sending an application their way. When they see your name it will ring a bell and improve your chances of getting your application/resume read.
Fill out your application/resume using keywords and phrases found in the job description, submit it and immediately call someone in HR and let them know you have just submitted your application/resume. Also, let them know you have the key qualifications by using the keywords in the job description. Keep it brief and sound natural, not scripted. Even if you get a voicemail, leave a brief message along with your phone number.
Question: How can I speed up making applications?
If you register with online job boards that list, and automatically search for, jobs that match your qualifications you will save a lot of time by filling out only one application per job board site. Then you can set the site to look for applicable jobs. The site will usually notify you if they have sent your resume to a potential employer. Your resume will also stay on the site for a set period of time getting you some good exposure.
Here is a job search resources that may help.
Question How do I get a response to my application?
Answer: Normally applicants will not get a response from a potential employer by submitting an application unless they are being considered for the job. Here are a few unconventional "tricks" that could help:
Leave the salary field empty. Many job coaches, recruiters, etc. believe it isn't appropriate to talk compensation before an interview. If it is mandatory to enter something in that field just put something like $1, $5. This will get your application through and negotiations can be made during the interview.
In the reference field, it is better to write that you will provide references if they have an interest in you than to fill in the fields.