What Treatments Are Available for Dry Macular Degeneration?
By Lylas G. Mogk, M.D., Updated by Sefy Paulose, M.D., March, 2022
Treatments
In dry age-related macular degeneration, small white or yellowish deposits, called drusen, form on the retina, beneath the macula, causing it to deteriorate or degenerate over time. There is no mainstay treatment for dry AMD. However, depending on the stage of dry AMD, taking a particular supplement can help slow the progression of dry AMD.
AREDS2
This supplement is called AREDS2. Studies have found that the following formulation can help decrease the progression of dry AMD: 500 milligrams (mg) of vitamin C, 400 international units of vitamin E, 80 mg zinc as zinc oxide, 2 mg copper as cupric oxide (to avoid anemia with high zinc intake), 10 mg lutein and 2 mg zeaxanthin. However, ask your doctor before taking this supplement as the AREDS2 clinical trial has shown no benefit for mild stages of AMD.
Modifiable Risk Factors
Studies suggest that modifiable risk factors may help slow the progression of AMD or prevent worsening. The most studied and proven modifiable risk factor is smoking. Studies have shown that smokers have an increased risk of dry AMD than nonsmokers. Also, ex-smokers have a decreased risk of dry AMD than current smokers. By stopping smoking, you will help prevent the progression of dry AMD Certain vegetables contain lutein, which is thought to protect the macula from further damage. Thus studies have shown by increasing the quantity of antioxidant-rich foods, such as fresh fruits and dark green leafy vegetables (kale, collard greens, and spinach, for example). Other studies have also suggesting eating fatty fish in order to reduce the severity of dry AMD as these fish are high in omega-3 fatty acids which help decrease inflammation. Obesity and uncontrolled hypertension are two known risk factors that worsen the disease progression of AMD. Because of this, incorporate regular exercise and following with your primary care provider about combatting obesity and hypertension.
Clinical Trials
Read our article about clinical trials.
Meet Author Ed Henkler and His Mother Jane, Who Has Macular Degeneration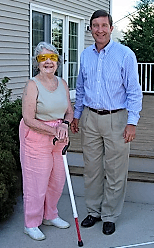 When Ed Henkler's mother, Jane, was diagnosed with
age-related macular degeneration
(AMD), she agreed to leave her full life in Florida to move closer to her son in Pennsylvania. But the family was apprehensive. Would Jane become homebound – trapped in a safe but restrictive cocoon? Would Ed and his wife sacrifice their own freedom to become caregivers?
Read Ed's story
and learn about the many ways he and his mother learned to cope, including: