The Difference Between Wet and Dry Age-Related Macular Degeneration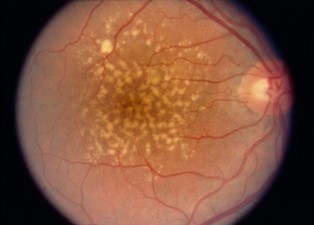 By Lylas G. Mogk, M.D., Edited by Sefy Paulose, M.D., March, 2022
There are two types of AMD: dry (atrophic) and wet (neovascular or exudative). Most AMD starts as the dry type and in 10-20% of individuals, it may progresses to the wet type. Age-related macular degeneration is usually bilateral (i.e., occurs in both eyes), but does not necessarily progress at the same pace in both eyes. It is therefore possible to experience the wet type in one eye and the dry type in the other.
Dry Macular Degeneration
The dry (atrophic) type affects approximately 80-90% of individuals with AMD. The dry AMD tends to progress more slowly than the wet type, and there is not—as of yet—an approved treatment or cure. In dry age-related macular degeneration, small white or yellowish deposits, called drusen, form on the retina, beneath the macula, causing it to deteriorate or degenerate over time.
Drusen are the hallmark of dry AMD. These small yellow deposits beneath the retina are a buildup of waste materials. They are made up of cholesterol, protein and fats. Typically, when drusen first form, they don't cause any vision loss. However, they are a risk factor for progressing to vision loss. When a person has more advanced dry macular degeneration, there are many more of these small yellowish deposits and they are larger.
You can read more at What Treatments Are Available for Dry Macular Degeneration?
Wet Macular Degeneration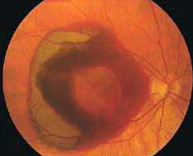 The wet/neovascular type affects approximately 10-15% of individuals with age-related macular degeneration, but accounts for approximately 90% of all cases of severe vision loss from the disease. Wet AMD tends to progress much more rapidly and causes severe loss of central vision. In this form, the degeneration of the macula causes the retina to create a protein called VEGF. This is made by the retina in order to protect itself and to create new blood vessels. However, this attempt is futile as those new blood vessels are abnormal. In wet AMD, these abnormal blood vessels tend to break, bleed and leak fluid which causes damage to the macula. After sometime, a scar overlies the entire macula causing severe loss of central vision.
You can read more at What Treatments Are Available for Wet Macular Degeneration?
Barbara Beskind, 91-Year-Old Silicon Valley Tech Designer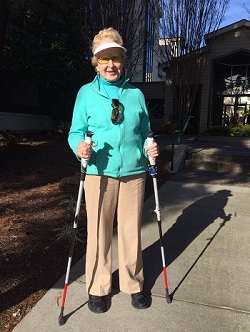 Barbara Beskind is 91 years old, a former occupational therapist, has macular degeneration, and is a designer with IDEO, a Silicon Valley technology company.
Her advice for the millions of seniors in the United States who are experiencing age-related vision loss? "The more adaptable, organized, and self-disciplined you've been your whole life, the better you will be able to adjust to your needs as they come up. As we get older we have to expect change and embrace it."
Learn more about ways to adapt your home, following Barbara's design principles:
Find out about Clinical Trials for both wet and dry macular degeneration.
Have an Eye Examination
If you have not had an eye exam by an ophthalmologist in three or more years, you may qualify for help from the EyeCare America – American Academy of Ophthalmology (aao.org) program offered through the American Academy of Ophthalmology.  According to EyeCare America, "The Seniors Program connects eligible seniors 65 and older with local volunteer ophthalmologists who provide a medical eye exam often at no out-of-pocket cost, and up to one year of followup care for any condition diagnosed during the initial exam, for the physician services."
Call the toll-free helpline at 1-866-324-EYES (3937) for more information.