Losses and Restorations in Basic Skills
Part 2 in a series of articles by Margaret E. Cleary, M.S., R.N., CVRT, based on principles from Thomas J. Carroll's book Blindness.
Loss of Mobility
Carroll's Concept: To lose mobility means to be unable to get about with grace, ease, and safety. One of the first marks of infant development is the power to walk. Adults cheer and praise, independence begins. With loss of mobility comes the return to the creeping dependency of childhood or the forced slow, shuffling dependency of old age. People with visual impairment may become immobilized, fixed, fearful, rooted, and confined to a spot in which he stands. Challenges appear in moving in and around the home, outdoors, at work, and to recreation. Children's toys, pebbles or broken glass, hydrants, animals, backing trucks, low awnings, and careless pedestrians might be in the way.
Cleary's Observation: People with visual impairment and diabetes need to be able to move around safely and efficiently to locate self-managing tasks, supplies, and food. Accessibility to a favored form of safe exercise becomes limited. Complications of diabetes decrease time, skill, and opportunities for movement. Personal goals for independence can seem increasingly elusive.
Restoring Mobility
Carroll's Concept: Restoring mobility for those with visual impairment is needed for normal life, social adequacy, and meaningful work. Orientation and mobility (O&M) instructors teach movement around the home, and use of a human guide, and techniques to employ the long cane. Training consists in relying on the remaining senses and the travel tools which extend the senses.
Cleary's Observation: People with diabetes develop awareness of (a) the potential danger of injury; (b) solutions to neuropathies (nerve damage from diabetes); (c) balance problems; (d) ways to spare family and friends during the demand for increased medical appointments; and (e) the use of recommended mobility devices.
My Reflections: I met Jason in northern Maine and found that due to pains in his legs and feet he had stopped taking mobility lessons. As he was not ready for rehabilitation, a number of health referrals were made. With medication for neuropathy, a brace for foot drop, and updated diabetes education, he resumed mobility lessons with renewed energy.
Loss of Techniques of Daily Living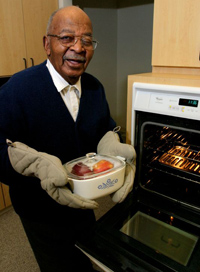 Carroll's Concept: Daily living techniques means the hundreds and hundreds of simple things that daily need doing. They usually include independently accessing food, eating, drinking, dressing, and undressing. The imposition of blindness makes thousands of routine tasks very difficult to perform, coming in with a sledgehammer blow. This major loss turns many inconveniences and nuisances into big obstacles.
Cleary's Observation: Added duties occur in such diabetes self-managing tasks as measuring insulin, performing blood glucose self-management, securing food, managing time, locating equipment, doing paperwork, making appointments, counting money, insuring cleanliness and neatness, shaving, and applying makeup.
Restoring Techniques of Daily Living
Carroll's Concept: Hundreds and hundreds of activities that we take for granted each day become insurmountable when we are unable to see to do them. Once again, rehabilitation aims to train the other senses of the person with visual impairment. Indirectly this occurs through restoration of psychosocial strengths, health techniques, communication skills, mobility, and personal self-care training.
Cleary's Observation: People with diabetes and visual impairment learn with adaptive skills to measure insulin, perform blood glucose self-monitoring, select and prepare food, get adequate exercise, tend to personal hygiene, insert eye medications, prevent complications, resume homemaking activities, manage finances, and face work challenges.
My Reflections: What a mess it was! Patricia had to downsize and her new apartment was cramped and scattered. Lessons from her vision rehabilitation therapist resulted in organizational skills; items sorted into containers; clothing organized and labeled; controls marked; and her body anchored while measuring insulin. Gradually, order was restored.