Diabetes and Vision Loss Tips: Being Active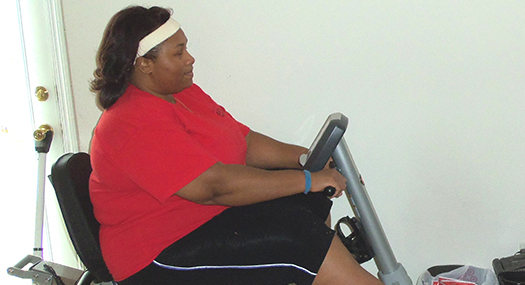 Medical Factors
If you have active diabetic retinopathy and have useful remaining vision, avoid activity that can cause retinal bleeding. Consult with your eye specialist and a physical therapist about what activities are best for you.
Be prepared to treat low blood sugar symptoms while exercising. Carry your glucometer and a fast-acting carbohydrate snack to correct a low blood sugar episode. Stop exercising if your blood sugar is 70mg/dl or below or you feel shaky, weak, or confused.
Exercise Options
Ask your vision rehabilitation therapist how to adapt your favorite physical activities to vision loss. They can also assist you to learn walking/jogging routes in your community.
Identify and utilize your exercise support system. Having an exercise partner helps with motivation and safety. For example, use a human guide when running. Ask local running clubs or YMCA about sighted running programs.
Explore adaptive sport programs in your community such as beep baseball, goalball, tandem biking, rowing teams, golf, and ski programs for the blind/low vision. Visit the United States Association of Blind Athletes website for more information.
Use a physical trainer to help you develop a fitness routine to work out in your home or at a local gym.
Check your insurance to see if it includes health coaching and/or incentives for increasing physical activity. Many plans have apps, virtual learning opportunities, and guidance and support specifically for people with diabetes. You may also qualify for Silver Sneakers or similar programs for seniors offering free gym memberships.
Follow guidelines for being active and safe. Check out these Exercise Resources.
Read More