Diabetes and Vision Loss Tips: Reducing Risks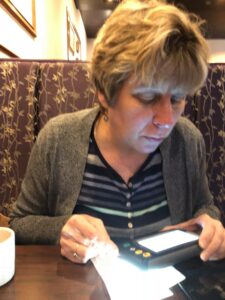 Check your feet every day for any sores, cuts or irritated areas. Use low vision aids such as lighted magnifiers and/or use your hands to feel for any irregularities. If any areas of concerns are noted, inform your doctor.
Keep a record of your medications in a format you can use, such as braille, large print, or a recording on a smart phone or small digital recorder.
Get an accessible glucometer so that you can be ready to check your blood sugar levels more frequently when you are sick.
Set up an accessible way to identify your medications, especially when you are not feeling well. Visit Accessible Devices for Managing Medications to learn more about identifying medications with low or no vision.
Consult with a vision rehabilitation therapist to learn ways to adapt your self-care skills so you can manage your diabetes better. Use the VisionAware Directory to find vision rehabilitation services in your area.
If you smoke and need help to quit, call 1-800-QUIT-NOW, a free telephonic counseling program.
Read More