Diabetes and Vision Loss Tips: Monitoring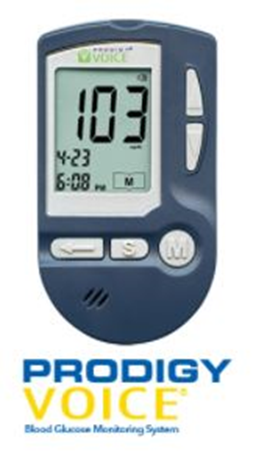 Ask your doctor to order a talking glucometer for you, such as the Prodigy Voice.
Consider using safety lancets to prick your finger. Safety lancets are easier and safer to use than a lancing pen and needle; ask your doctor for a prescription.
Ask your doctor if you qualify for a CGM (continuous glucose meter) like the Freestyle Libre or Dexcom G6. They are accessible when you download the phone app and turn on Voice Over (IPhone) or Talk Back (android phones).
Read more information on monitoring your blood sugar levels with low or no vision.
A vision rehabilitation therapist can help you set up accessible systems to monitor the important factors that impact your blood sugar levels and overall health.
Use talking scales and smartphone apps to monitor your weight and food intake. Research shows that dieters who weigh daily and log their food intake lose twice as much as those who do not.
Record important numbers such as A1c (average blood glucose for the past three months), weight, blood pressure, cholesterol, and kidney function to track trends and see what actions improve them.
Read More