Tips for Taking Glaucoma (and Other) Eye Drops
By Ira Marc Price, O.D., Updated by Sefy Paulose, March, M.D., 2022
Problems with Putting in Your Eye Drops?
One of the reasons people cite for not following through with their prescribed treatment regimen for glaucoma is that it is difficult to put in their eye drops or the drops themselves are irritating. One tip is to keep your eye drops refrigerated. By doing so, the drops themselves will feel cool and soothing to the surface of your eye when you use them. Also, you will be able to feel the cool drop as it falls into your eye versus onto your skin. This way you are sure the drop has in gone in your eye and not on your cheek.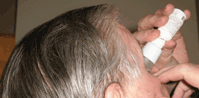 More Tips
Initially, you might want to practice these techniques with artificial tears instead of using your actual eye drop medication.
Wash your hands before putting in your eye drops.
If the instructions say "Shake well before using," this is the time to do it.
Tilt your head back – it may be helpful to sit on a chair or couch and rest your head on the backrest.
Hold the bottle in with your first three fingers of your dominant hand and hold it upside down.
Place it as close as possible to your eye. However be careful not to let the tip of the dropper touch any part of your eye. Make sure the dropper stays clean
With your non-dominant hand, use your ring finger to pull down your lower eyelid. This forms a "pocket."
Place the prescribed number of drops into the lower eyelid pocket. If you are putting in more than one drop, wait at least two to five minutes before putting in the next drop. This will prevent the first drop from being washed out by the second.
Close your eye or press gently against the lower lid near your nose lightly with your finger for at least one minute. This will help keep the drop in your eye and prevent the drops from draining into the tear duct, which can increase your risk of side effects.
Close your eyes gently and wait a few moments.
Gently blot around your eyes to remove any excess.
Adaptations to Help with Eye Drops
The Autodrop Eye Drop Guide holds the eye open and directs the drop, allowing for an accurate dosage. It is easily attached to any eye drop bottle. The attached cap closes the bottle when not in use. The Autodrop is reusable after cleaning. It is available from Maxiaids.com.
The Autosqueeze Eyedrop Bottle Squeezer adds "levers" around the bottle to make squeezing easier and more controlled for persons with reduced grip strength, arthritis, or injury. The Autosqueeze fits snugly around the neck of most small plastic dispensing bottles, does not interfere with the cap opening and closing, and transfers easily to other bottles when needed. It is available from Maxiaids.com.
Additional Information
You can find more information about managing a variety of medications after vision loss at Medication Management, Organization, and Labeling. For patient-centered information about glaucoma detection, treatment, and everyday management, see VisionAware's Patient's Guide to Living with Glaucoma and Guía del Paciente: Vivir con Glaucoma.